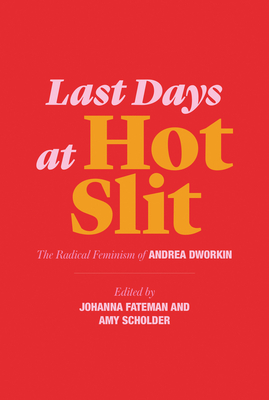 Last Days at Hot Slit: The Radical Feminism of Andrea Dworkin (Semiotext(e) / Native Agents)
Publication Date:
March 5th, 2019
The MIT Press Bookstore
1 on hand, as of Dec 8 10:45am
(SEMIO)
On Our Shelves Now
Description
Selections from the work of radical feminist author Andrea Dworkin, famous for her antipornography stance and role in the feminist sex wars of the 1980s.
Radical feminist author Andrea Dworkin was a caricature of misandrist extremism in the popular imagination and a polarizing figure within the women's movement, infamous for her antipornography stance and her role in the feminist sex wars of the 1980s. She still looms large in feminist demands for sexual freedom, evoked as a censorial demagogue, more than a decade after her death. Among the very first writers to use her own experiences of rape and battery in a revolutionary analysis of male supremacy, Dworkin was a philosopher outside and against the academy who wrote with a singular, apocalyptic urgency.
Last Days at Hot Slit brings together selections from Dworkin's work, both fiction and nonfiction, with the aim of putting the contentious positions she's best known for in dialogue with her literary oeuvre. The collection charts her path from the militant primer Woman Hating (1974), to the formally complex polemics of Pornography (1979) and Intercourse (1987) and the raw experimentalism of her final novel Mercy (1990). It also includes "Goodbye to All This" (1983), a scathing chapter from an unpublished manuscript that calls out her feminist adversaries, and "My Suicide" (1999), a despairing long-form essay found on her hard drive after her death in 2005.
Praise for Last Days at Hot Slit: The Radical Feminism of Andrea Dworkin (Semiotext(e) / Native Agents)
Fateman and Scholder's anthology is useful as a primer on works by a figure consigned to the radical fringe of feminist discourse.—Kirkus Reviews—
Dworkin wants us to look straight at those questions in feminism that are the most delicate, the most painful, where women have the most to lose. Dworkin had reason to be angry: Her life was marked by the kind of male violence that is disturbingly common yet consistently goes unacknowledged.
—Bookforum—
Dworkin became the ultimate symbol of radical feminism for a generation coming of age in the 1970s and '80s. This collection of her fiction and nonfiction mixes her most controversial writing with autobiography, like "My Suicide," an essay discovered after her death in 2005.
—New York Times Book Review, "New and Noteworthy"—
So what is it in Dworkin's long-neglected oeuvre that has suddenly become resonant? Perhaps it's simply because we're in a moment of crisis, when people seeking solutions are dusting off all sorts of radical ideas. But I think it's more than that. Dworkin was engaged, as many women today are engaged, in a pitched cultural battle over whose experiences and assumptions define our common reality.
—Michelle Goldberg, New York Times—
Yet time has smoothed many of Dworkin's rough edges. As her overheated rhetoric cools, what is left is the singlemindedness of a woman who courted disgrace, harassment, and mockery in pursuit of liberation. If her tactics were flawed and her polemics often excessive to the point of camp, her ability to trace the awful vitality of sexism is still resonant. "Equality is a practice," she wrote. "It is an action. It is a way of life. It is a social practice. It is an economic practice. It is a sexual practice. It can't exist in a vacuum." The book reintroduces her as a revolutionary thinker unafraid to be the stereotypical "angry woman." Indeed, she embraced that role. She was an artist of rage, alternately poetic and ridiculous, incisive and messy, compelling and tedious.
—Boston Review—
It's book that a new generation of feminists should want to get their hands on.
—Bustle—
The book is a mirror for what I've been afraid of for years: being defiant, being ugly, being unloved by men, even being unloved by other feminists like Andrea Dworkin.
—Nona Willis Aronowitz, New York Magazine's The Cut—
Last Days At Hot Slit pays homage to the Marchiano-era Dworkin, to the anachronistic anti-porn persona everyone loves to hate, but along the way, it makes some much-needed jagged cuts.
—The Daily Beast—
Dworkin sacrificed her comfort, her reputation, and to some extent herself for her writing. What she never gave up was style.
—New Yorker—
Last Days at Hot Slit provides a service by virtue of its inclusion of previously unpublished pieces and excerpts from out-of-print books, but there's also great skill behind the respectful, honest depiction of Dworkin's fraught development as an intellectual.
—Dissent—
The new collection of Dworkin's writings Last Days at Hot Slit, edited by Johanna Fateman and Amy Scholder, is an exhilarating reminder that however you're currently doing feminism, it's probably wrong. Dworkin's writing is forceful, unapologetic, pleasurable without making its author seem likeable. She describes herself, pointedly, as 'one of those serious women.' What Last Days reveals, according to its editors, is that Dworkin shaped our current world without ever being recognized or appreciated as Great, in the ways that Great Men traditionally are, and it's hard to disagree with them. We get our ideas of how we're supposed to be—shaven or not, angry or otherwise—from somewhere, and one of those places is her work.
—Commonweal—
Dworkin claimed a radical femininity, refusing to perform her gender in order to satisfy the patriarchal palate; she was loud, fat, indifferently dressed, un-made-up. She didn't ask for permission to speak; she simply spoke, when and about what and to whom she wished. She demanded. She insisted. She refused to be "a woman" while insisting on framing her experience, sexual and otherwise, as being shaped most fundamentally by the female-ness of her body, by the hatred and violence directed at that body from deep within patriarchal culture. For Dworkin, women's (and, ultimately, men's) survival depended on the acknowledgment of this hatred and the consequent rejection of patriarchy.
—Los Angeles Review of Books—
The second-wave "anti-sex feminist" was born too soon. Dworkin was largely dismissed as a ranting man-hater during her life (she died in 2005), but these collected essays reveal a passionate, clear-eyed rationalist who got what movements like #MeToo have only begun to espouse: Equality is a matter of life and death.
—Newsweek—
She's a brilliant powerhouse, an extreme voice for our extreme times.
—Holland Cotter, New York Times Book Review—
Last Days at Hot Slit, a new anthology of Dworkin's work, shows that the caricature of her as a simplistic man-hater, a termagant in overalls, could only be sustained by not reading what she actually wrote
—Jennifer Szalai, New York Times Book Review, "Books of the Times"—
Johanna Fateman and Amy Scholder have edited an excellent new collection, which includes excerpts of Dworkin's fiction and nonfiction books, speeches, essays, and unpublished autobiographical writing…Dworkin lived decades before #MeToo: she heard hundreds of accounts of women being assaulted. Echoing Dworkin's own experiences, the stories affirmed for her that sexual assault was widespread and common, most of it committed not by strangers but by acquaintances, intimate partners, coworkers, and bosses—'normal men,' as she emphasized in speeches, respected elders of the community, or perhaps 'the boy next door.'
—The New York Review of Books—
A selection of her writings that makes a powerful case for [Dworkin's] complexity, wit, stylistic originality and political relevance in the grab-'em-by-the-pussy era.
—The Guardian—