Discounted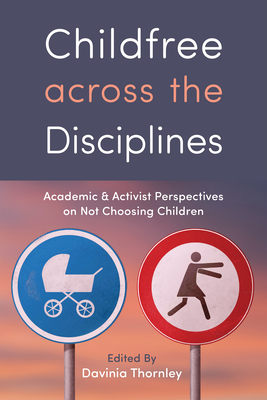 Childfree across the Disciplines: Academic and Activist Perspectives on Not Choosing Children
Previous price:

$37.95
Current price:

$34.95
Publication Date:
April 15th, 2022
Publisher:
Rutgers University Press
The MIT Press Bookstore
1 on hand, as of Nov 30 10:32am
(SS:GS)
On Our Shelves Now
Description
Recently, childfree people have been foregrounded in mainstream media. More than seven percent of Western women choose to remain childfree and this figure is increasing. Being childfree challenges the 'procreation imperative' residing at the center of our hetero-normative understandings, occupying an uneasy position in relation to—simultaneously—traditional academic ideologies and prevalent social norms. After all, as Adi Avivi recognizes, "if a woman is not a mother, the patriarchal social order is in danger." This collection engages with these (mis)perceptions about childfree people: in media representations, demographics, historical documents, and both psychological and philosophical models. Foundational pieces from established experts on the childfree choice--Rhonny Dam, Laurie Lisle, Christopher Clausen, and Berenice Fisher--appear alongside both activist manifestos and original scholarly work, comprehensively brought together. Academics and activists in various disciplines and movements also riff on the childfree life: its implications, its challenges, its conversations, and its agency—all in relation to its inevitability in the 21st century. Childfree across the Disciplines unequivocally takes a stance supporting the subversive potential of the childfree choice, allowing readers to understand childfreedom as a sense of continuing potential in who—or what—a person can become.
Praise for Childfree across the Disciplines: Academic and Activist Perspectives on Not Choosing Children
"Offering a timely rejoinder to pronatalism, Childfree Across the Disciplines features numerous authors who see 'reproductive consciousness' as a key component of reproductive justice. This volume's perspective is especially vital in a world that too often assumes childlessness to be a sacrifice, default, or deficit, rather than accurately representing what childfreedom is: a reasoned and purposeful attempt to forge identities and life pathways that are not circumscribed by reproductive imperatives."
— Suzanne Leonard
"Childfree Across the Disciplines is a first of its kind, bringing academic and activist voices together as it challenges readers to rethink what they think they know to be true about the childfree choice, who makes it, and why."
— Amy Blackstone
"Offering a timely rejoinder to pronatalism, Childfree Across the Disciplines features numerous authors who see 'reproductive consciousness' as a key component of reproductive justice. This volume's perspective is especially vital in a world that too often assumes childlessness to be a sacrifice, default, or deficit, rather than accurately representing what childfreedom is: a reasoned and purposeful attempt to forge identities and life pathways that are not circumscribed by reproductive imperatives."
— Suzanne Leonard
"Childfree Across the Disciplines is a first of its kind, bringing academic and activist voices together as it challenges readers to rethink what they think they know to be true about the childfree choice, who makes it, and why."
— Amy Blackstone