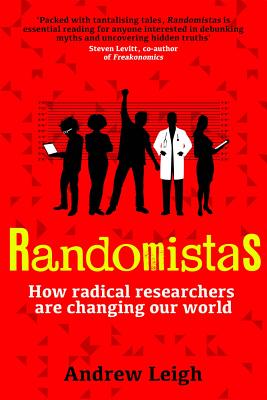 Randomistas: How Radical Researchers Are Changing Our World
Publication Date:
July 24th, 2018
Publisher:
Yale University Press
The MIT Press Bookstore
2 on hand, as of Nov 30 10:32am
(SS)
On Our Shelves Now
Description
A fascinating account of how radical researchers have used experiments to overturn conventional wisdom and shaped life as we know it
Experiments have consistently been used in the hard sciences, but in recent decades social scientists have adopted the practice. Randomized trials have been used to design policies to increase educational attainment, lower crime rates, elevate employment rates, and improve living standards among the poor.
 
This book tells the stories of radical researchers who have used experiments to overturn conventional wisdom. From finding the cure for scurvy to discovering what policies really improve literacy rates, Leigh shows how randomistas have shaped life as we know it. Written in a "Gladwell-esque" style, this book provides a fascinating account of key randomized control trial studies from across the globe and the challenges that randomistas have faced in getting their studies accepted and their findings implemented. In telling these stories, Leigh draws out key lessons learned and shows the most effective way to conduct these trials.
Praise for Randomistas: How Radical Researchers Are Changing Our World
"[An] excellent new book. Leigh tells the story of how randomized controlled trials are being used to improve teaching, crime fighting, charitable giving, and more. It's a good read and even in areas that I know well, such as crime research, I learned new information. . . . Leigh is a person to keep an eye on."—Alex Tabarrok, Marginal Revolution
"[An] encompassing account. . . . Leigh finds that randomized trials have challenged assumptions in many fields, from social welfare policy to retail marketing strategies. And though many people presume that randomized trials are impractically costly and time-consuming, Leigh shows how today's researchers are demonstrating that 'randomized experiments can be done quickly, simply, and cheaply.' Even a general audience can appreciate this well-rounded and intriguing overview of a surprisingly far-reaching topic."—Publishers Weekly
"Even-tempered, scientific, and accessible."—John A. List, Science
"I'm currently reading a great book about randomized trials, which is honestly more interesting than it sounds. Randomistas: How Radical Researchers Are Changing Our World is by an Australian economist-turned-politician named Andrew Leigh, and its fundamental premise is that we don't really know anything until we test it properly with a randomized trial. . . . It surveys the far-reaching power of randomized trials in education, poverty reduction, economics, and other areas. The overall theme: sometimes our instincts are right, sometimes they're wrong."—Alex Hutchinson, Sweat Science blog, Outside Magazine
"Packed with tantalizing tales, Randomistas is essential reading for anyone interested in debunking myths and uncovering hidden truths."—Steven Levitt, coauthor of Freakonomics
"The subject of this book could hardly be more vital: are we humble enough to admit we may be wrong, and do we care enough to learn? Randomistas is rigorous, impassioned and tremendous fun. Everyone should read it." —Tim Harford, author of The Undercover Economist and Fifty Things That Made The Modern Economy
"Randomistas is a tour de force – an engaging, passionate, how-to account of randomised experiments. After reading Leigh's book, you'll be baffled at the many businesses and governments yet to catch on. Fortunately, Leigh also offers a simple guide that anyone can follow. If the next generation of policymakers follows his advice – and let's hope they do - this book will literally change the world." —David Halpern, head of the UK's Behavioural Insights Team, author of Inside the Nudge Unit