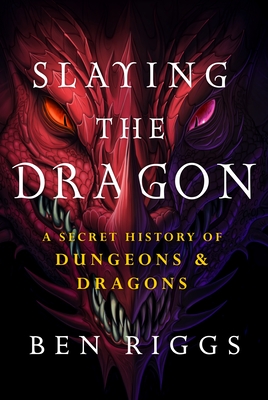 Slaying the Dragon: A Secret History of Dungeons & Dragons
Publication Date:
July 19th, 2022
Publisher:
St. Martin's Press
The MIT Press Bookstore
1 on hand, as of Dec 8 10:45am
(CS:GS)
On Our Shelves Now
Description
Role-playing game historian Ben Riggs unveils the secret history of TSR— the company that unleashed imaginations with Dungeons & Dragons, was driven into ruin by disastrous management decisions, and then saved by their bitterest rival.
"Ben Riggs manages to walk the fine line between historical accuracy and fun about as well as anyone and SLAYING THE DRAGON is equal parts historical accuracy and entertainment. It was an essential read for me while directing and producing the Official D&D documentary but I'd recommend it to anyone regardless of the subject material. It's a wild and fun ride through the turbulent history of one the most influential brands in our lifetime." - JOE MANGANIELLO
Co-created by wargame enthusiasts Gary Gygax and Dave Arneson, the original Dungeons & Dragons role-playing game released by TSR (Tactical Studies Rules) in 1974 created a radical new medium: the role-playing game. For the next two decades, TSR rocketed to success, producing multiple editions of D&D, numerous settings for the game, magazines, video games, New York Times bestselling novels by Margaret Weis, Tracy Hickman, and R. A. Salvatore, and even a TV show! But by 1997, a series of ruinous choices and failed projects brought TSR to the edge of doom—only to be saved by their fiercest competitor, Wizards of the Coast, the company behind the collectible card game Magic: The Gathering.
Unearthed from Ben Riggs's own adventurous campaign of in-depth research, interviews with major players, and acquisitions of secret documents, Slaying the Dragon reveals the true story of the rise and fall of TSR. Go behind the scenes of their Lake Geneva headquarters where innovative artists and writers redefined the sword and sorcery genre, managers and executives sabotaged their own success by alienating their top talent, ignoring their customer fanbase, accruing a mountain of debt, and agreeing to deals which, by the end, made them into a publishing company unable to publish so much as a postcard.
As epic and fantastic as the adventures TSR published, Slaying the Dragon is the legendary tale of the rise and fall of the company that created the role-playing game world.
Praise for Slaying the Dragon: A Secret History of Dungeons & Dragons
"Ben Riggs manages to walk the fine line between historical accuracy and fun about as well as anyone and SLAYING THE DRAGON is equal parts historical accuracy and entertainment. It was an essential read for me while directing and producing the Official D&D documentary but I'd recommend it to anyone regardless of the subject material. It's a wild and fun ride through the turbulent history of one the most influential brands in our lifetime." — Joe Manganiello
"...a compelling adventure in itself" —The Washington Post
"Riggs weaves a tale of corporate intrigue, personal ego, and failed saving throws that will fascinate any fan of D&D. Whether you're a grognard, still clutching your red box rules and grumbling about THAC0, or a recent convert to the greatest game the world has ever played, you're going to love Slaying the Dragon!" —Tim Akers, author of Knight Watch
"Herein are the secrets and myths, the highs and lows, and hidden world of the magical realm of TSR and its creation: Dungeons & Dragons. An indispensable account about the legends and truth from the people that worked there. Highly recommended!" —Mike Mason, co-designer of Call of Cthulhu 7th edition
"Through in-depth interviews with the creators themselves, Ben has put together a deeply personal account of so many of the behind-the-scenes going-ons, the good and the bad, at TSR." —former TSR artist Brom
"When I was thirteen and sitting on the other side of the DM screen, using all my latent psionic talent to roll a 20 on that bugbear, I never thought I would ever want to read a book about the economic history of D&D . . . yet here we are. Riggs has written a fascinating and dishy account of the business hits and whistling misses of a band of dreamers, writers, artists, and geeks and the real-life, sometimes terrifying adventures that eventually destroyed the company behind arguably the most imaginative American game ever created, though it was never just that. A must-read for fighters, magic-users, and even bards—and everyone else, too." —Brad Ricca, Edgar-nominated author of Mrs. Sherlock Holmes and True Raiders

"Far from a fluff piece on a beloved hobby, this book goes behind the GM's screen to take a hard-nosed look at the people and circumstances that first gave rise to D&D, then nearly killed it—twice. Riggs takes you on a roller-coaster from boom to near bankruptcy, but never loses sight of the individuals involved, the good, the bad, and the geeky." —Marie Brennan, Hugo-Award nominated author of the Lady Trent Memoirs series
"A fascinating and colorful page-turner that explores the rich history of Dungeons & Dragons and it's role in the development of role-playing games. Ben Riggs's engrossing Slaying the Dragon takes us into the basements of Wisconsin and boardrooms of Los Angeles where the popular role-playing genre evolved—against impossible odds—from board games to virtual reality. And he does so by speaking with the geeks who inherited this Earth, putting their wild stories to paper for the first time. 900 XP to Riggs for his achievement!" —Sean O'Connell, managing director of CinemaBlend and author of Release the Snyder Cut and With Great Power

"With a trove of research and candid interviews, Riggs investigates the many missteps that would ultimately sour "years of stunning success" for the tabletop gaming giant...A compelling corporate saga mired in mythmaking." —Kirkus Reviews
"So here's the thing. I've never played a game of Dungeons & Dragons in my life. And I've also already read Of Dice and Men, the D&D history that is the jumping-off point for this work, which promises to uncover some of the less-known dealings of Lake-Geneva-based TSR's downfall. And yet I found Slaying the Dragon thoroughly enjoyable, partly because of the near-local setting, and partly because Riggs is a good storyteller who also highlights the corporate missteps in a way that I think will appeal to folks who read business narratives. And to think, Milwaukee finally has enough hotel rooms to keep GenCon, only 19 years too late." —Daniel Goldin, Boswell Book Company, Milwaukee WI
"Meticulously researched and passionately written, Ben Riggs' book Slaying the Dragon is essential reading for anyone intrigued by the absurdities of the gaming industry. This chronicle of errors answers longstanding questions about the rise and fall of roleplaying's most famous game and provides an entertaining step-by-step guide for how NOT to run a corporation. Absolutely recommended!" — Satyros Phil Brucato, designer and core author of Mage: The Ascension, Powerchords: Music, Magic & Urban Fantasy, Mage: The Sorcerers Crusade, the Mage 20 series, and more