Discounted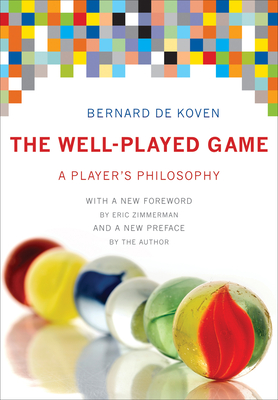 The Well-Played Game: A Player's Philosophy
Previous price:

$29.95
Current price:

$27.95
Publication Date:
August 23rd, 2013
The MIT Press Bookstore
1 on hand, as of Sep 21 10:34am
(CS:GS)
On Our Shelves Now
Description
The return of the classic book on games and play that illuminates the relationship between the well-played game and the well-lived life.
In The Well-Played Game, games guru Bernard De Koven explores the interaction of play and games, offering players—as well as game designers, educators, and scholars—a guide to how games work. De Koven's classic treatise on how human beings play together, first published in 1978, investigates many issues newly resonant in the era of video and computer games, including social gameplay and player modification. The digital game industry, now moving beyond its emphasis on graphic techniques to focus on player interaction, has much to learn from The Well-Played Game.
De Koven explains that when players congratulate each other on a "well-played" game, they are expressing a unique and profound synthesis that combines the concepts of play (with its associations of playfulness and fun) and game (with its associations of rule-following). This, he tells us, yields a larger concept: the experience and expression of excellence. De Koven—affectionately and appreciatively hailed by Eric Zimmerman as "our shaman of play"—explores the experience of a well-played game, how we share it, and how we can experience it again; issues of cheating, fairness, keeping score, changing old games (why not change the rules in pursuit of new ways to play?), and making up new games; playing for keeps; and winning. His book belongs on the bookshelves of players who want to find a game in which they can play well, who are looking for others with whom they can play well, and who have discovered the relationship between the well-played game and the well-lived life.
Praise for The Well-Played Game: A Player's Philosophy
...this book is a must-read for game designers and game players who may wish to tweak the games they play to make playing more rewarding. I would go even further. Because it is so delightful to read, I recommend it to anyone who likes a thought-provoking, intellectual journal. The writing style is deceptively simple. As you read, you wonder to yourself, 'Can it really be this easy?' But don't kid yourself; this is a book that can be read again and again for new insights each time.—Computing Reviews—
This book is important. If you have not read it, read it. If you already have, browse it and you will almost certainly find small details and aspects of play and games that you already knew but failed to take into account. And, more importantly, please rewrite this book in a different tone, in a different format, make YouTube videos about some of its ideas, create web comics about them, share the stories with your students, use its anecdotes in your own work. That is the way that classics are supposed to be dealt with.
—Gonzalo Frasca, Game Studies—