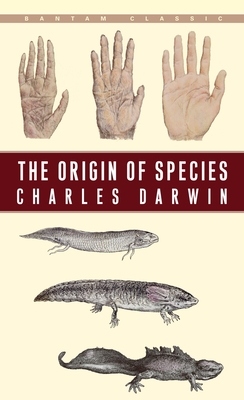 The Origin of Species: By Means of Natural Selection or the Preservation of Favoured Races in the Struggle for Life
Publication Date:
June 1st, 1999
Publisher:
Bantam Classics
The MIT Press Bookstore
1 on hand, as of Nov 29 10:27am
(NATUR)
On Our Shelves Now
Description
The publication of Darwin's The Origin of Species in 1859 marked a dramatic turning point in scientific thought. The volume had taken Darwin more than twenty years to publish, in part because he envisioned the storm of controversy it was certain to unleash. Indeed, selling out its first edition on its first day, The Origin of Species revolutionized science, philosophy, and theology.
Darwin's reasoned, documented arguments carefully advance his theory of natural selection and his assertion that species were not created all at once by a divine hand but started with a few simple forms that mutated and adapted over time. Whether commenting on his own poor health, discussing his experiments to test instinct in bees, or relating a conversation about a South American burrowing rodent, Darwin's monumental achievement is surprisingly personal and delightfully readable. Its profound ideas remain controversial even today, making it the most influential book in the natural sciences ever written—an important work not just to its time but to the history of humankind.
About the Author
CHARLES ROBERT DARWIN was born in 1809 in Shrewsbury, England, to a wealthy intellectual family, his grandfather being the famous physician Erasmus Darwin. At Cambridge University he formed a friendship with J. S. Henslow, a professor of botany, and that association, along with his enthusiasm for collecting beetles, led to "a burning zeal," as he wrote in his Autobiography, for the natural sciences. When Henslow obtained for him the post of naturalist on H.M.S. Beagle, the course of his life was fixed. The five-year-long voyage to the Southern Hemisphere between 1831 and 1836 would lay the foundation for his ideas about evolution and natural selection. Upon his return Darwin lived in London before retiring to his residence at Down, a secluded village in Kent. For the next forty years he conducted his research there and wrote the works that would change human understanding forever. Knowing of the resistance from the orthodox scientific and religious communities, Darwin published The Origin of Species in 1859 only when another naturalist, Alfred Russel Wallace, independently reached the same conclusions. His other works include The Descent of Man, and Selection in Relation to Sex (1871) and Recollections of My Mind and Character, also titled Autobiography (1887). Charles Darwin's Diary of the Voyage of the H.M.S. Beagle was published posthumously in 1933. Darwin died in 1882; he is buried in Westminster Abbey.