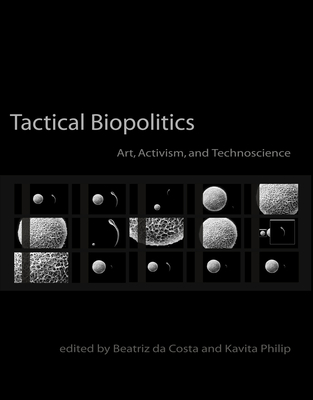 Tactical Biopolitics: Art, Activism, and Technoscience (Leonardo)
Publication Date:
August 13th, 2010
The MIT Press Bookstore
1 on hand, as of Nov 30 10:32am
(MEDIA)
On Our Shelves Now
Description
Scientists, scholars, and artists consider the political significance of recent advances in the biological sciences.
Popular culture in this "biological century" seems to feed on proliferating fears, anxieties, and hopes around the life sciences at a time when such basic concepts as scientific truth, race and gender identity, and the human itself are destabilized in the public eye. Tactical Biopolitics suggests that the political challenges at the intersection of life, science, and art are best addressed through a combination of artistic intervention, critical theorizing, and reflective practices. Transcending disciplinary boundaries, contributions to this volume focus on the political significance of recent advances in the biological sciences and explore the possibility of public participation in scientific discourse, drawing on research and practice in art, biology, critical theory, anthropology, and cultural studies. After framing the subject in terms of both biology and art, Tactical Biopolitics discusses such topics as race and genetics (with contributions from leading biologists Richard Lewontin and Richard Levins); feminist bioscience; the politics of scientific expertise; bioart and the public sphere (with an essay by artist Claire Pentecost); activism and public health (with an essay by Treatment Action Group co-founder Mark Harrington); biosecurity after 9/11 (with essays by artists' collective Critical Art Ensemble and anthropologist Paul Rabinow); and human-animal interaction (with a framing essay by cultural theorist Donna Haraway).
Contributors
Gaymon Bennett, Larry Carbone, Karen Cardozo, Gary Cass, Beatriz da Costa, Oron Catts, Gabriella Coleman, Critical Art Ensemble, Gwen D'Arcangelis, Troy Duster, Donna Haraway, Mark Harrington, Jens Hauser, Kathy High, Fatimah Jackson, Gwyneth Jones, Jonathan King, Richard Levins, Richard Lewontin, Rachel Mayeri, Sherie McDonald, Claire Pentecost, Kavita Philip, Paul Rabinow, Banu Subramanian, subRosa, Abha Sur, Samir Sur, Jacqueline Stevens, Eugene Thacker, Paul Vanouse, Ionat Zurr
Praise for Tactical Biopolitics: Art, Activism, and Technoscience (Leonardo)
Scholars who concentrate on the nonscientific aspects of bioscience and biotechnology are often identified with ethical and legal scholarship focused on narrow range of issues. It is therefore refreshing to find in Tactical Biopolitics a diverse collection of essays that extend the horizon of inquiry into the meanings and impacts of bioscience and biotechnology.—David Castle, The Quarterly Review of Biology—
Tactical Biopolitics is a snapshot of the state-of-the-art at one of the farthest frontiers of interdisciplinary exploration.
—Cheryl A. Kerfeld, PLoS Biology—