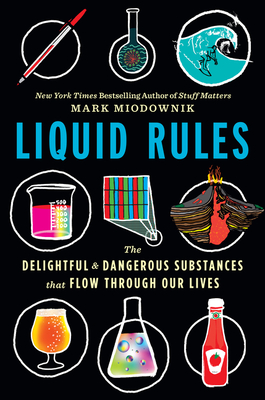 Liquid Rules: The Delightful and Dangerous Substances That Flow Through Our Lives
Publication Date:
February 19th, 2019
The MIT Press Bookstore
1 on hand, as of Nov 30 10:32am
(JR:EF)
On Our Shelves Now
Description
Sometimes explosive, often delicious, occasionally poisonous, and always fascinating: the New York Times bestselling author of Stuff Matters offers an "entertaining discussion of the various ways our lives are enriched by fluids" (The Wall Street Journal). We know that we need water to survive, and that, for some of us, a cup of coffee or a glass of wine can feel just as vital. But do we really understand how much we rely on liquids, or their destructive power? Set on one of the author's transatlantic flights, Liquid Rules offers readers a tour of these formless substances, told through the language of molecules, droplets, heartbeats, and ocean waves. We encounter fluids within the plane—from hand soap to liquid crystal display screens—and without: in the volcanoes of Iceland, the frozen expanse of Greenland, and the marvelous California coastline. We come to see liquids with wonder and fascination, and to understand their potential for death and destruction. Just as in his bestselling, award-winning Stuff Matters, Mark Miodownik's unique brand of scientific storytelling brings his subject to life in ways that will inform and amuse science buffs and lay readers alike.
Praise for Liquid Rules: The Delightful and Dangerous Substances That Flow Through Our Lives
A Physics Today Best Book of 2019  Finalist for the Royal Society Insight Investment Science Book Prize   "Liquid Rules is an entertaining discussion of the various ways our lives are enriched by fluids. From the physics of ballpoint pens to the origin of jet-aircraft contrails, the book rewards the reader with fascinating facts and insights. Every day, millions of people travel on an airplane. Fortunately, Mark Miodownik was recently one of them." —Wall Street Journal   "Written in a conversational tone, with all of the charm that genuine enthusiasm for the subject brings...[Miodownik] draws on his experience as an engineer and materials scientist and his skills as a science writer to make complex concepts accessible and, better still, intuitive...Liquid Rules is both entertaining and informative, which makes it a useful tool in the fight to promote scientific literacy. At a time when technology, science, and public policy are often at odds, Miodownik adds to our understanding of the physical world with humor and sound science."  —Science   "Miodownik combines history and cutting-edge research to describe the various forms and uses of liquids, from the history of liquid fuels and ink to the art and science behind brewing a great cup of coffee or tea. Liquid Rules is filled with trivia both delightful and gross, because the liquids in our lives can be delightful or gross (or anything in between)...Accessible and entertaining."  —Champaign/Urbana News-Gazette  "It's probably fair to say that most people don't find materials science an inherently exciting topic. But this opinion is nearly impossible to hold after reading anything written by Mark Miodownik. In Stuff Matters, Miodownik revealed that materials as apparently humdrum as concrete are actually amazing. In Liquid Rules, Miodownik yet again makes the seemingly mundane awe-inspiring. I'll never look at a ballpoint pen the same way again."  —Kelly and Zach Weinersmith, New York Times-bestselling authors of Soonish   "Mark Miodownik flies high again in Liquid Rules. It's a treat to see the world through his eyes as he flows from topic to topic, and under his gaze even the most mundane things—ballpoint pens, ketchup bottles, a cup of tea—sizzle with significance."  —Sam Kean, New York Times-bestselling author of The Disappearing Spoon and Caesar's Last Breath   "A witty, engaging, and deeply knowledgeable look at our nonsolid world. By taking a transatlantic flight with Miodownik, you'll be amazed by what you learn."  —Jon Gertner, New York Times-bestselling author of The Idea Factory and The Ice at the End of the World   "This book delivers exactly what it promises . . . A splendid soup of liquid-related science . . . It's a treat. I lost count of the number of 'but why?' questions it answers . . . This is a winning and hugely readable book."  —Sunday Times  "Mark Miodownik is the science communicator's science communicator . . . Once again, he has written a book much like the substances it describes: exciting, anarchic and surprising. Like the sea, it covers a lot of ground. And like a perfectly made cup of tea, it is warm, comforting and very refreshing."  —The Guardian   "A sparkling exposition of materials in science and engineering . . . Lively."  —Financial Times&nb