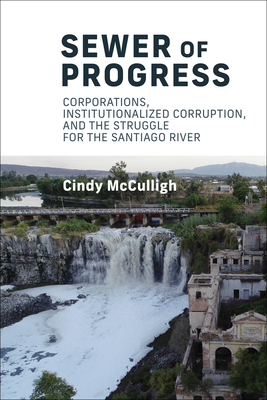 Sewer of Progress: Corporations, Institutionalized Corruption, and the Struggle for the Santiago River
Publication Date:
July 25th, 2023
The MIT Press Bookstore
1 on hand, as of Nov 30 10:32am
(NEWM)
On Our Shelves Now
Description
A creative and comprehensive exploration of the institutional forces undermining the management of environments critical to public health.
For almost two decades, the citizens of Western Mexico have called for a cleanup of the Santiago River, a water source so polluted it emanates an overwhelming acidic stench. Toxic clouds of foam lift off the river in a strong wind. In Sewer of Progress, Cindy McCulligh examines why industrial dumping continues in the Santiago despite the corporate embrace of social responsibility and regulatory frameworks intended to mitigate environmental damage. The fault, she finds, lies in a disingenuous discourse of progress and development that privileges capitalist growth over the health and well-being of ecosystems. 
Rooted in research on institutional behavior and corporate business practices, Sewer of Progress exposes a type of regulatory greenwashing that allows authorities to deflect accusations of environmental dumping while "regulated" dumping continues in an environment of legal certainty. For transnational corporations, this type of simulation allows companies to take advantage of double standards in environmental regulations, while presenting themselves as socially responsible and green global actors. Through this inversion, the Santiago and other rivers in Mexico have become sewers for urban and industrial waste. Institutionalized corruption, a concept McCulligh introduces in the book, is the main culprit, a system that permits and normalizes environmental degradation, specifically in the creation and enforcement of a regulatory framework for wastewater discharge that prioritizes private interests over the common good.
Through a research paradigm based in institutional ethnography and political ecology, Sewer of Progress provides a critical, in-depth look at the power relations subverting the role of the state in environmental regulation and the maintenance of public health.
About the Author
Cindy McCulligh is a professor researcher at the Center for Research and Advanced Studies in Social Anthropology (CIESAS) in Guadalajara, Mexico.