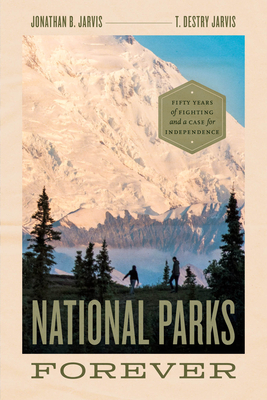 National Parks Forever: Fifty Years of Fighting and a Case for Independence
Publication Date:
June 3rd, 2022
Publisher:
University of Chicago Press
The MIT Press Bookstore
2 on hand, as of Nov 29 10:27am
(NATUR)
On Our Shelves Now
Description
Two leaders of the National Park Service provide a front-row seat to the disastrous impact of partisan politics over the past fifty years—and offer a bold vision for the parks' future.
 
The US National Parks, what environmentalist and historian Wallace Stegner called America's "best idea," are under siege. Since 1972, partisan political appointees in the Department of the Interior have offered two conflicting views of the National Park Service (NPS): one vision emphasizes preservation and science-based decision-making, and another prioritizes economic benefits and privatization. These politically driven shifts represent a pernicious, existential threat to the very future of our parks.
 
For the past fifty years, brothers Jonathan B. and T. Destry Jarvis have worked both within and outside NPS as leaders and advocates. National Parks Forever interweaves their two voices to show how our parks must be protected from those who would open them to economic exploitation, while still allowing generations to explore and learn in them. Their history also details how Congress and administration appointees have used budget and staffing cuts to sabotage NPS's ability to manage the parks and even threatened their existence. Drawing on their experience, Jarvis and Jarvis make a bold and compelling proposal: that it is time for NPS to be removed from the Department of the Interior and made an independent agency, similar to the Smithsonian Institution, giving NPS leaders the ability to manage park resources and plan our parks' protection, priorities, and future.
Praise for National Parks Forever: Fifty Years of Fighting and a Case for Independence
"In this self-described 'dual memoir,' Jonathan and Destry take turns making the case—and then synthesize their viewpoints—that the National Park Service needs to be independent from the political 'whipsaw' of Washington politics, making it more like the Smithsonian Institution. . . . By providing both historical and personal context to the NPS's politicization, the Jarvis brothers make a powerful case."
— American Scientist
"There's an argument that can be made, one backed by evidence, that the past fifty years have seen the most egregious attempts to subvert the mission of the National Park Service to preserve and protect natural resources unimpaired for the enjoyment of future generations. That argument is clearly laid out in National Parks Forever. . . . A rich collection of institutional knowledge from within the machinations of government and from within the National Park Service."
— Kurt Repanshek
"An earnest plea to move the National Park Service out of the highly politicized Department of the Interior and make it an independent agency."
— Kirkus Reviews
"Painful history plus a roadmap for change equals a compelling book."
— Revelator
"Offers a rare behind-the-scenes look at the inner workings of the park service."
— Rob Hotakainen
"The text offers a readable, well-organized argument for the independence proposal, illustrated by selected black-and-white photos. Readers interested in the US government's interface with conservation will appreciate this book. . . . Recommended."
— Choice
"This book is compelling reading for all conservation biologists to emulate positive aspects and avoid pitfalls when developing an effective and self-sustaining park system."
— Community Ecology
"In careers spanning half a century, both Jon and Destry Jarvis personally witnessed how the National Park Service became a partisan battleground for competing political ideologies, with policies ricocheting back and forth every time a new administration came to power. Filled with detailed firsthand accounts and insightful analysis, National Parks Forever not only chronicles the sorrowful result, but also points to a way to rescue 'America's best idea'—and make it even better."
— Dayton Duncan, writer/producer, "The National Parks: America's Best Idea"
"The history retold by these two brothers, each outstanding in their lifelong dedication to Parks, is compelling and instructive, as well as a very good read. But their lessons learned and call for independence must be enacted if the parks are to survive. I advised NPS leadership for eight years; I witnessed that a major priority is to ensure that the full history of Americans is preserved in the places where that history unfolded. If NPS remains a political football, we will lose not only magnificent landscapes but the hundreds of parks that tell the true stories of America's past. At this time when our history has become violently politicized, we must depoliticize the one federal agency that knows how to memorialize the truth for future generations."
— Margaret J. Wheatley, author of "Leadership and the New Science" and former member of National Parks Advisory Board