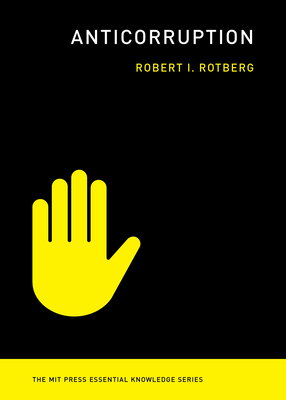 Anticorruption (The MIT Press Essential Knowledge series)
Publication Date:
July 21st, 2020
The MIT Press Bookstore
2 on hand, as of Dec 7 10:28am
(EKS)
On Our Shelves Now
Description
Winning the anticorruption battle: a guide for citizens and politicians.
The phenomenon of corruption has existed since antiquity; from ancient Mesopotamia to our modern-day high-level ethical morass, people have sought a leg up, a shortcut, or an end run to power and influence. In this volume in the MIT Press Essential Knowledge series, Robert Rotberg, a recognized authority on governance and international relations, offers a definitive guide to corruption and anticorruption, charting the evolution of corruption and offering recommendations on how to reduce its power and spread. The most important component of anticorruption efforts, he argues, is leadership that is committed to changing dominant political cultures.
Rotberg explains that corruption is the conversion of a public good into personal gain—either by the exchange of cash for influence or by the granting of special favors even without explicit payments. He describes successful anticorruption efforts in countries ranging from Denmark and Sweden to Canada and Costa Rica, and discusses the roles of judicial systems, investigative journalism, multinational corporations, and technological advances. He shows how the United States has become more corrupt than before, and contrasts recent US and Canadian experiences.
Without sufficient political will to eliminate corruption, it persists. Rotberg outlines thirteen practical steps for battling corruption, including removing holdover officials tainted by corruption and the public declaration of financial assets by elected officials and appointees.
Praise for Anticorruption (The MIT Press Essential Knowledge series)
"Robert Rotberg offers a comprehensive, yet compact, examination of how corruption corrodes societies in which it is allowed to take hold, and how to combat it."
—Porchlight