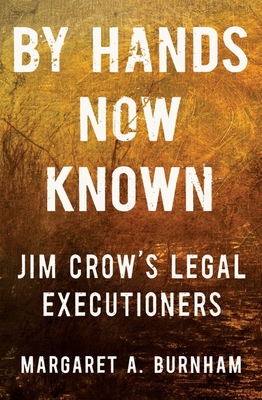 By Hands Now Known: Jim Crow's Legal Executioners
Publication Date:
September 27th, 2022
Publisher:
W. W. Norton & Company
The MIT Press Bookstore
1 on hand, as of Nov 29 10:27am
(SS:RI)
On Our Shelves Now
Description
Finalist for the 2022 Kirkus Prize for Nonfiction
Finalist for the 2023 Los Angeles Times Book Prize for History
One of NPR's Books We Love in 2022 • Named a Best Book of the Year: The New Yorker, Oprah Daily, Kirkus, Chicago Public Library, and Publishers Weekly
A paradigm-shifting investigation of Jim Crow–era violence, the legal apparatus that sustained it, and its enduring legacy, from a renowned legal scholar.
If the law cannot protect a person from a lynching, then isn't lynching the law?
In By Hands Now Known, Margaret A. Burnham, director of Northeastern University's Civil Rights and Restorative Justice Project, challenges our understanding of the Jim Crow era by exploring the relationship between formal law and background legal norms in a series of harrowing cases from 1920 to 1960. From rendition, the legal process by which states make claims to other states for the return of their citizens, to battles over state and federal jurisdiction and the outsize role of local sheriffs in enforcing racial hierarchy, Burnham maps the criminal legal system in the mid-twentieth-century South, and traces the unremitting line from slavery to the legal structures of this period and through to today.
Drawing on an extensive database, collected over more than a decade and exceeding 1,000 cases of racial violence, she reveals the true legal system of Jim Crow, and captures the memories of those whose stories have not yet been heard.
Praise for By Hands Now Known: Jim Crow's Legal Executioners
A work by turns shocking, moving, and though-provoking. It merits the attention of anyone interested in the historical roots of the civil rights movement of the 1960s and, more recently, Black Lives Matter.... By Hands Now Known is one of those rare books that forces us to consider in new ways the nature of our politics and society and the enduring legacy of our troubled past.
— Eric Foner - New York Review of Books
Devastating.... [A] remarkable book.
— Dave Davies - Fresh Air, NPR
[Shows] the 'chronic, unpredictable violence' that shaped daily life in the South.... Recounting such stories is part of the important work that this book does.... But historical retrieval is only part of Burnham's goal with this book, which also makes a case for reparations, to pick up 'where law has failed.'... With justice so elusive, even a simple acknowledgment of the facts is a necessary step. As some of the survivors put it when they first heard from Burnham and her team: 'I thought I'd never get this call.'
— Jennifer Szalai - New York Times
The corrective we all need.... This book is a rich, evocative testament to [Burnham's] life's work, as she illuminates a series of harrowing, untold cases of racial violence from 1920 to 1960, tapping a database she built over the course of a decade. Her insights and interpretations bring a vital, necessary perspective to the segregationist era.
— Oprah Daily
The detailed accounts of racial terror in this book are hard to stomach, but necessary to understand the national legacy of slavery and the Jim Crow system that emerged after emancipation.... Margaret Burnham's rich historical analysis documents the longstanding failure of federal laws and institutions to prevent racial violence and police brutality. The book also shines a light on the resourcefulness of African Americans who organized to help one another and fight for justice.
— Debbie Elliott - NPR
Burnham illuminates a continuum of white supremacy.... She also examines Black Americans' long-standing 'practices of dissent and resistance' and describes reparations as an ethical imperative.
— The New Yorker
[A] searing indictment of the all-encompassing violence of Jim Crow and a persuasive case for long-overdue reparations.... An indispensable addition to the literature of social justice and civil rights.
— Kirkus, starred review
Meticulously researched and carefully documented.... The dozens of fully fleshed out stories in this book—which are examples, of course, of countless stories left untold—add a personal element to this achingly real history. By Hands Now Known is impossible to read without being overwhelmed by the magnitude of racial violence in the U.S. in the past and persisting into the present.
— Booklist, starred review
Uncovers the hidden and unknown victims of Jim Crow violence.... Readers interested in the long history of the civil rights struggle should definitely read this.
— Library Journal, starred review
Searing.... An essential reckoning with America's history of racial violence.
— Publishers Weekly, starred review
Defying national suppression and indifference, By Hands Now Known vividly conveys the stories of those whose lives were destroyed by previously undocumented racial violence between 1920 and 1960.… Margaret A. Burnham, drawing on a painstakingly constructed database, launches a vital and restorative reckoning with the reprehensible devastation of lives, communities, justice, and memory.
— Martha Minow, 300th Anniversary University Professor, Harvard University, and author of When Should Law Forgive?
If you truly want to understand why police and vigilantes who kill Black people are rarely held to account, you must read this extraordinary book.… By far the most sobering and most illuminating work I have ever read on the long history of state-sanctioned racial violence in the US.
— Robin D. G. Kelley, author of Race Rebels
In this necessary and important book, Margaret A. Burnham addresses the enormous violence necessary to sustain Jim Crow through a series of compelling case studies about the lives destroyed by the brutal regime of separate but equal.… In reckoning with the impact of this history on the present, Burnham asks how we might undo or redress this legacy of violence. It is timely and essential reading.
— Saidiya Hartman, author of Wayward Lives, Beautiful Experiments
Needs to be read by everyone who recognizes the historic mandate of our time: to interrupt cycles of racist violence.… Rigorously delineated, passionately argued, Margaret A. Burnham's book offers us heart-wrenching cases.… But Burnham goes further, asking us to finally acknowledge the history of ever-present resistance, even under the most insurmountable conditions, and to consider what justice might mean today.
— Angela Y. Davis, Distinguished Professor Emerita, University of California, Santa Cruz
A vitally important history.… Burnham's meticulous unpacking—of newspaper accounts, coroners' reports, and interviews with surviving witnesses, family members, and clergy—is searing, unforgettable, and profoundly moving.
— Patricia J. Williams, author of The Alchemy of Race and Rights and Giving a Damn
Masterfully explores how everyday acts of violence fundamentally shaped Jim Crow during the twentieth century. With meticulous and compelling new research, Margaret A. Burnham offers a powerful, moving, and groundbreaking account of the interconnections between race, law, and citizenship in US history.
— Keisha N. Blain, coeditor of the number-one New York Times bestseller Four Hundred Souls and award-winning author of Until I Am Free
[This] narratively lively yet stunningly exhaustive interrogation of Jim Crow laws retained from slavery, misconstrued after Reconstruction, and nationalized during Plessy v. Ferguson, ought to become indispensable to all legal and civil rights considerations, and the cause célebre of our time—reparations.
— David Levering Lewis, Pulitzer Prize–winning author of W. E. B. Du Bois