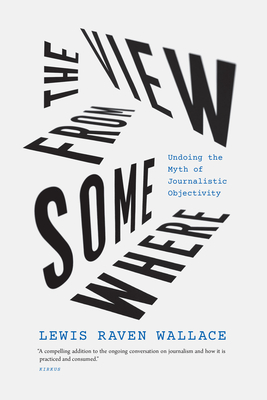 The View from Somewhere: Undoing the Myth of Journalistic Objectivity
Publication Date:
April 12th, 2023
Publisher:
University of Chicago Press
The MIT Press Bookstore
1 on hand, as of Sep 21 10:34am
(POLSI)
On Our Shelves Now
Description
A look at the history and myth of the objective journalist and how this ideal has been used to silence marginalized voices.
 In The View from Somewhere, Lewis Raven Wallace dives deep into the history of "objectivity" in journalism and how its been used to gatekeep and silence marginalized writers as far back as Ida B. Wells. At its core, this is a book about fierce journalists who have pursued truth and transparency and sometimes been punished for it—not just by tyrannical governments but by journalistic institutions themselves. He highlights the stories of journalists who question "objectivity" with sensitivity and passion: Desmond Cole of the Toronto Star; New York Times reporter Linda Greenhouse; Pulitzer Prize-winner Rachel Kaadzi Ghansah; Peabody-winning podcaster John Biewen; Guardian correspondent Gary Younge; former Buzzfeed reporter Meredith Talusan; and many others. Wallace also shares his own experiences as a midwestern transgender journalist and activist who was fired from his job as a national reporter for public radio for speaking out against "objectivity" in coverage of Trump and white supremacy. 
 
With insightful steps through history, Wallace stresses that journalists have never been mere passive observers. Using historical and contemporary examples—from lynching in the nineteenth century to transgender issues in the twenty-first—Wallace offers a definitive critique of "objectivity" as a catchall for accurate journalism. He calls for the dismissal of this damaging mythology in order to confront the realities of institutional power, racism, and other forms of oppression and exploitation in the news industry.
 
The View from Somewhere is a compelling rallying cry against journalist neutrality and for the validity of news told from distinctly subjective voices.  
Praise for The View from Somewhere: Undoing the Myth of Journalistic Objectivity
"Nuanced and subtle. . . A compelling addition to the ongoing conversation on journalism and how it is practiced and consumed."
— Kirkus Reviews
"Democracy has been dying in the darkness for quite some time. What The View From Somewhere makes dazzlingly clear is that saving journalism will mean saving it from a false notion of objectivity."
— The New Republic
"[A] thoughtfully researched series of essays. . . . Wallace makes his case by carefully tracing the history of so-called objectivity in journalism. . . . As his story moves into the present, [he] persuasively argues that collective action can remedy traditional reporting's blind spots."
— Bookforum
"I've always been fascinated by the idea of objectivity and how those in power are able to dictate what is truth and what is acceptable in journalism. With everything happening right now in the world, reading about how Black, queer, and other marginalized reporters have navigated and challenged this idea throughout history has been particularly illuminating and comforting."
— The Atlantic
"In an age when traditional journalistic practices and assumptions are failing, this book should be on the desk of every journalist and every student of journalism. . . . [Wallace] shows how journalism can move away from the traditional, self-destructive professional model to a more effective model of public journalism and citizen journalism. Essential."
— CHOICE
"An outstanding and urgently needed critique of journalistic orthodoxy. . . Ought to be required reading in journalism schools everywhere."
— PopMatters
"Wallace dissects modern definitions of 'neutrality' in news and points to journalism's historic trailblazers—queer, Black, and immigrant reporters—to remind us how marginalized people have suffered at the hands of so-called 'objective news' and how we must urgently resist and reframe those definitions. An essential book for reporters, editors, and consumers of news."
— Seema Yasmin, Emmy Award–winning journalist, medical doctor, and Stanford University professor
"The View From Somewhere is brilliant. Wallace slays the myth of journalistic objectivity, forcing the reader to wrestle with something profound: that all readers and creators of journalism have subjectivities, and that we can better perceive and create depictions of truth if we all examine these subjectivities instead of pretending that they don't exist."
— Steven Thrasher, journalist and Northwestern University professor
"Wallace asks the right questions and makes a powerful case for a reexamination of what journalism is and how it can best serve the public. American journalists will readily admit, I think, that our industry has let down the broader community in recent years. Wallace posits a new solution for how we might avoid the mistakes of the past and move forward in a productive way. The View from Somewhere is both a fascinating dissection of our political body and a passionate plea for reform. It's also a darn good read."
— Celeste Headlee, author of We Need to Talk: How to Have Conversations That Matter