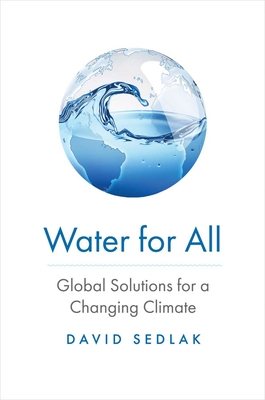 Water for All: Global Solutions for a Changing Climate
Publication Date:
November 7th, 2023
Publisher:
Yale University Press
The MIT Press Bookstore
1 on hand, as of Nov 30 10:32am
(ENVST)
On Our Shelves Now
Description
A fresh look at the world's water crises, and the existing and emerging solutions that can be used to solve them
 
It is not your imagination: water crises are more frequent. Our twentieth-century systems for providing the water that grows food, sustains cities, and supports healthy ecosystems are failing to meet the demands of growing population and the challenges brought on by climate change. But the grim news reports—of empty reservoirs, withering crops, failing ecosystems—need not be cause for despair, argues award-winning author David Sedlak.
 
Communities on the front lines of previous water crises have pioneered approaches that are ready to be applied elsewhere. Some have resolved shortages by enhancing water-use efficiency, and others have used moments of crisis to resolve historic disagreements over water rights. Still others have employed treatment technologies that unlock vast quantities of untapped water resources.
 
Sedlak identifies the challenges that society faces, including ineffective policies and outdated infrastructure, and the myriad of tools at our disposal—from emerging technologies in desalination to innovations for recycling wastewater and capturing more of the water that falls on fields and cities. He offers an informed and hopeful approach for rethinking our assumptions about the way that water is managed. With this knowledge we can create a future with clean, abundant, and affordable water for all.
Praise for Water for All: Global Solutions for a Changing Climate
"Securing water for all is the challenge of our times, one made more urgent by the changing climate. Water for All not only highlights the many solutions available, it connects them and, above all, communicates that we have tools to hand."—Kalanithy Vairavamoorthy, executive director, International Water Association
"Although war, climate change, and the economy capture the headlines, water is the real issue that deserves our attention and is the critical common thread among those challenges. Water for All is a forward-looking roadmap for how to improve the world's relationship with water so that human civilization and ecosystems can thrive together."—Michael Webber, author of Power Trip: The Story of Energy and Thirst for Power: Energy, Water, and Human Survival
"Water for All is a well-researched and engaging guide to clever ways to meet our future water challenges."—William Alley, coauthor of The Water Recycling Revolution
"In this remarkably factual book, David Sedlak shows that we have the knowledge, technology, and means to solve the world's water problems. If you read only one book this year, read this one."—Asit K. Biswas, chief executive, Third World Centre for Water Management, and visiting professor, University of Glasgow