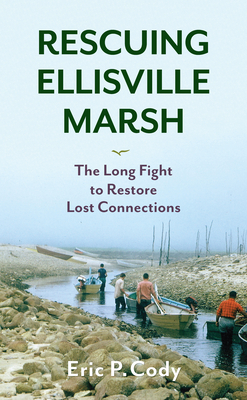 Rescuing Ellisville Marsh: The Long Fight to Restore Lost Connections
Publication Date:
January 27th, 2023
The MIT Press Bookstore
1 on hand, as of Dec 8 10:45am
(LOCAL)
On Our Shelves Now
Description
For hundreds of years, farmers and fishing communities maintained the inlet to Ellisville Marsh, a picturesque piece of coastline ten miles south of Plymouth, Massachusetts. Recognized as one of the most environmentally sensitive and ecologically valuable places in the state, the salt marsh and estuary are home to a diverse array of wildlife and a range of habitats, including low-tide mudflats, a saltwater pond, intertidal zone, and fields of tall marsh grass.
After agricultural and fishing activities faded away in the late twentieth century, it soon became apparent that protecting the marsh and its surroundings from development would not be enough to restore the natural equilibrium that had been lost when the inlet became blocked. Having witnessed government inaction over the years, Eric P. Cody and four other locals founded the Friends of Ellisville Marsh in 2007 to address erosion, revive tidal flows, and revitalize fisheries and wildlife in the face of climate change. Rescuing Ellisville Marsh presents the powerful case study of backyard activism, telling the story of a community that bonded with a natural place and decided to fight for it.
Praise for Rescuing Ellisville Marsh: The Long Fight to Restore Lost Connections
"Cody, in detailing the efforts and introducing us to the varied people who got involved—lawyers and botanists, sea mossers and lobstermen, a tribal chairperson, engineers, environmentalists, and a big dog named Veda—creates a moving and compelling ode, to a place, to a natural history, to people and the power that comes from focusing efforts and working with an environment . . . Cody's deep and reverent attention to the natural world reminds us of its rewards, personally and environmentally."—Boston Globe
"At a time when preventing climate change can seem daunting to the point of paralysis, stories about local, individual action appreciate in value. The author . . . buys a piece of coastal property on the Massachusetts South Shore and finds himself joining with neighbors to protect and then restore a salt marsh inlet. A fine-grained account of what is entailed in addressing the problems humans have caused as the built environment has 'stranded the natural places.'"—HarvardMagazine
"Cody offers an intimate portrait of this place, its history and people, and the natural life in and around the marsh. The side stories of the community near Ellisville Marsh, the joys of monitoring work on the marsh, and the battles to win permits and keep the inlet open, are compelling."—Tim Traver, author of Sippewissett: Or, Life on a Salt Marsh