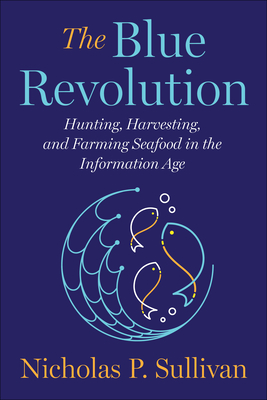 The Blue Revolution: Hunting, Harvesting, and Farming Seafood in the Information Age
Publication Date:
April 19th, 2022
The MIT Press Bookstore
2 on hand, as of Dec 8 10:45am
(GAST)
On Our Shelves Now
Description
Overfishing. For the world's oceans, it's long been a worrisome problem with few answers. Many of the global fish stocks are at a dangerous tipping point, some spiraling toward extinction. But as older fishing fleets retire and new technologies develop, a better, more sustainable way to farm this popular protein has emerged to profoundly shift the balance. The Blue Revolution tells the story of the recent transformation of commercial fishing: an encouraging change from maximizing volume through unrestrained wild hunting to maximizing value through controlled harvesting and farming. Entrepreneurs applying newer, smarter technologies are modernizing fisheries in unprecedented ways. In many parts of the world, the seafood on our plates is increasingly the product of smart decisions about ecosystems, waste, efficiency, transparency, and quality.
Nicholas P. Sullivan presents this new way of thinking about fish, food, and oceans by profiling the people and policies transforming an aging industry into one that is "post-industrial"—fueled by "sea-foodies" and locavores interested in sustainable, traceable, quality seafood. Catch quotas can work when local fishers feel they have a stake in the outcome; shellfish farming requires zero inputs and restores nearshore ecosystems; new markets are developing for kelp products, as well as unloved and "underutilized" fish species. Sullivan shows how the practices of thirty years ago that perpetuated an overfishing crisis are rapidly changing. In the book's final chapters, Sullivan discusses the global challenges to preserving healthy oceans, including conservation mechanisms, the impact of climate change, and unregulated and criminal fishing in international waters.
In a fast-growing world where more people are eating more fish than ever before, The Blue Revolution brings encouraging news for conservationists and seafood lovers about the transformation of an industry historically averse to change, and it presents fresh inspiration for entrepreneurs and investors eager for new opportunities in a blue-green economy.
 
Praise for The Blue Revolution: Hunting, Harvesting, and Farming Seafood in the Information Age
"Consumers who want to understand where their seafood comes from and how it is being sustained will appreciate Sullivan's reporting."
 
— Booklist
"In The Blue Revolution, Nicolas Sullivan provides a different, more nuanced narrative of US fishing."
— Science
"The US has the fourth-longest ocean coastline worldwide but a history of failed fisheries management and sea farming and imports 85 percent of its seafood. This book, the product of five years of research, brings encouraging news without glossing over realities."
 
— Choice
"The Blue Revolution is a treatise on how synergisms among science, technology, markets, and regulations might mitigate overfishing and some impacts of climate change while providing seafood to the world. The book's many case studies provide grounds for optimism."
 
— Human Ecology
"Well-researched book…. well worth reading for anyone interested in where seafood comes from. They might be surprised by the background story of the fish on their plate."
 
— Biologist