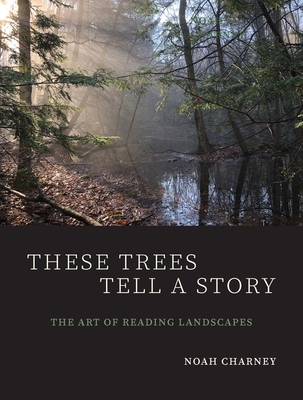 These Trees Tell a Story: The Art of Reading Landscapes
Publication Date:
May 16th, 2023
Publisher:
Yale University Press
The MIT Press Bookstore
1 on hand, as of Sep 21 10:34am
(NATUR)
On Our Shelves Now
Description
A deeply personal master class on how to read a natural landscape and unravel the clues to its unique ecological history
 
"[Charney] is an amiable host. . . . The cumulative effect of his book on the reader is the realization that, as much as we talk about 'managing' nature, nature has been managing itself for eons just fine without us."—Alexandra Horowitz, The Atlantic
 
Structured as a series of interactive field walks through ten New England ecosystems, this book challenges readers to see the world through the eyes of a trained naturalist. With guided questions, immersive photography, and a narrative approach, each chapter adds layers of complexity to a single scene, revealing the millions of years of forces at play. Tying together geology, forest ecology, wildlife biology, soil processes, evolution, conservation, and more, Noah Charney shows how and why landscapes appear in their current forms.
 
Charney's stories and lessons will provide anyone with the necessary investigative skills to look at a landscape, interpret it, and tell its story—from its start as rock or soil to the plants and animals that live on it. Ultimately, Charney argues, by critically engaging with the landscape we will become better at connecting with nature and ourselves.
Praise for These Trees Tell a Story: The Art of Reading Landscapes
"[Charney] is an amiable host. . . . The cumulative effect of his book on the reader is the realization that, as much as we talk about 'managing' nature, nature has been managing itself for eons just fine without us. . . . What we might see as a simple plot of land . . . can have a history and complicated existence that is completely independent of us."—Alexandra Horowitz, The Atlantic
"A delightful immersion in close observation and deep understanding."—Tristan Gooley, author of The Lost Art of Reading Nature's Signs and The Natural Navigator
"A book for the shelf of any forest wanderer—and a book to take on those wanders, so you can much better understand what you're seeing!"—Bill McKibben, author of Wandering Home
"Charney inspires readers to rediscover a sense of wonder in their local landscapes, from soil to slopes to stone walls to salamanders. Become a nature detective by reading this insightful book!"—Meg Lowman, author of Life in the Treetops and The Arbornaut
"Unfolding as a series of puzzles or mysteries in the landscape, this book is a thought-provoking, vivid, and creative guide to asking the right questions and being in the moment in the outdoors."—James Barilla, author of My Backyard Jungle
 
"This very engaging book is a series of natural history mysteries and a naturalist's memoir. Highly recommended!"—Tom Wessels, author of Reading the Forested Landscape: A Natural History of New England
 
"As an art historian, I'm used to 'reading' paintings. Here, Noah Charney has provided a guide to 'reading' landscapes, focusing on the natural wonder that are trees. I'm honored to share the name of the author of this brilliant, approachable book."—Noah Charney, author of The Art Thief: A Novel and The 12-Hour Art Expert: Everything You Need to Know about Art in a Dozen Masterpieces
 
"Written in a familiar and conversational style, this book will be a welcome source for naturalist studies and the 'reading' of landscapes."—Robert Sanford, author of Reading Rural Landscapes: A Field Guide to New England's Past