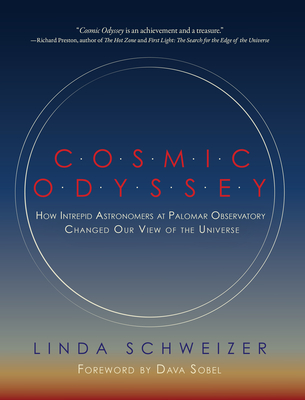 Cosmic Odyssey: How Intrepid Astronomers at Palomar Observatory Changed our View of the Universe
Publication Date:
November 24th, 2020
The MIT Press Bookstore
2 on hand, as of Dec 8 10:45am
(GS:CO)
On Our Shelves Now
Description
From newborn galaxies to icy worlds and blazing quasars, a behind-the-scenes story of how Palomar Observatory astronomers unveiled our complex universe.
Ever since 1936, pioneering scientists at Palomar Observatory in Southern California have pushed against the boundaries of the known universe, making a series of dazzling discoveries that changed our view of the cosmos: quasars, colliding galaxies, supermassive black holes, brown dwarfs, supernovae, dark matter, the never-ending expansion of the universe, and much more. In Cosmic Odyssey, astronomer Linda Schweizer tells the story of the men and women at Palomar and their efforts to decipher the vast energies and mysterious processes that govern our universe.
Palomar was the Apollo mission of its era. The first images from the 200-inch George Ellery Hale telescope, commissioned in 1948 as the world's largest, generated as much excitement as images from the moon in 1969 and from the Hubble Space Telescope more recently. So far, Palomar's "Big Eye" and three other telescopes have yielded more than 75,000 telescope-nights of precious data. Schweizer takes readers behind the scenes of scientific discovery, mapping the often chaotic process of detours, dead ends, and serendipitous leaps of insight. Although her focus is on Palomar, she follows threads of discovery across the world to other teams and observatories. Based on more than one hundred interviews and enhanced by research in scientific journals, her account paints a fascinating picture of how discrete insights acquired over decades by researchers in a global community cascade, collide, and finally coalesce into the discoveries we come to accept as facts.
Praise for Cosmic Odyssey: How Intrepid Astronomers at Palomar Observatory Changed our View of the Universe
"In Cosmic Odyssey, Linda Schweizer has perfectly encapsulated its rich history and astonishing discoveries in a book which will thrill astronomers and engineers alike…While some hardback astronomy publications can be oversized and cumbersome, Schweizer's easy-to-handle hardback takes it from a 'coffee-table flick-through' book to a 'pick up, take anywhere and delve in' title so, during a time when travel is restricted, sit back and allow yourself to be transported to this beautiful art deco observatory and deep into the Universe."
—BBC Sky at Night Magazine
"Linda Schweizer's Cosmic Odyssey is a thrilling account of the cosmological discoveries of the past century that 'pulls back the curtain' on the brilliant, eccentric scientists who achieved those breakthroughs…A comprehensive and gripping achievement, Cosmic Odyssey is destined to be a landmark work on the history of astronomy."
—ForeWord Reviews, STARRED review
"Schweizer is a research astronomer and science writer, and her experience in both disciplines has resulted in an authoritative book covering a wide breadth of topics. Based on hundreds of interviews she conducted over more than a decade, the book provides a unique historical record of 20th- century astronomy at Palomar. Cosmic Odyssey is aimed at the general public, but readers with some background in undergraduate physics will have an easier time with the book."
—Physics Today
"For those unfamiliar with how George Ellery Hale's 200-inch Big Eye Telescope at Palomar observatory forever changed astronomy, Linda Schweizer's recent book will be a revelation...Schweizer offers a very readable and understandable summary of our astronomical progress over the last 75 years as primarily seen through the lens of this one optical observatory. It's not an easy task to offer up such an historical survey to the general public, but Schweizer does it with aplomb."
—FORBES
"The book examines how Palomar—not just its 200-inch telescope but also a 60-inch telescope and two wide-field Schmidt telescopes—played a major role in discoveries from solar system science to cosmology."
—The Space Review
"Schweizer's style  is clear, intelligent and informative."
—Popular Science