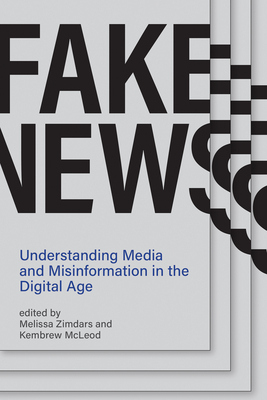 Fake News: Understanding Media and Misinformation in the Digital Age (Information Policy)
Publication Date:
February 18th, 2020
The MIT Press Bookstore
1 on hand, as of Dec 8 10:45am
(POLSI)
On Our Shelves Now
Description
New perspectives on the misinformation ecosystem that is the production and circulation of fake news.
What is fake news? Is it an item on Breitbart, an article in The Onion, an outright falsehood disseminated via Russian bot, or a catchphrase used by a politician to discredit a story he doesn't like? This book examines the real fake news: the constant flow of purposefully crafted, sensational, emotionally charged, misleading or totally fabricated information that mimics the form of mainstream news. Rather than viewing fake news through a single lens, the book maps the various kinds of misinformation through several different disciplinary perspectives, taking into account the overlapping contexts of politics, technology, and journalism.
The contributors consider topics including fake news as "disorganized" propaganda; folkloric falsehood in the "Pizzagate" conspiracy; native advertising as counterfeit news; the limitations of regulatory reform and technological solutionism; Reddit's enabling of fake news; the psychological mechanisms by which people make sense of information; and the evolution of fake news in America. A section on media hoaxes and satire features an oral history of and an interview with prankster-activists the Yes Men, famous for parodies that reveal hidden truths. Finally, contributors consider possible solutions to the complex problem of fake news—ways to mitigate its spread, to teach students to find factually accurate information, and to go beyond fact-checking.
Contributors
Mark Andrejevic, Benjamin Burroughs, Nicholas Bowman, Mark Brewin, Elizabeth Cohen, Colin Doty, Dan Faltesek, Johan Farkas, Cherian George, Tarleton Gillespie, Dawn R. Gilpin, Gina Giotta, Theodore Glasser, Amanda Ann Klein, Paul Levinson, Adrienne Massanari, Sophia A. McClennen, Kembrew McLeod, Panagiotis Takis Metaxas, Paul Mihailidis, Benjamin Peters, Whitney Phillips, Victor Pickard, Danielle Polage, Stephanie Ricker Schulte, Leslie-Jean Thornton, Anita Varma, Claire Wardle, Melissa Zimdars, Sheng Zou