New Release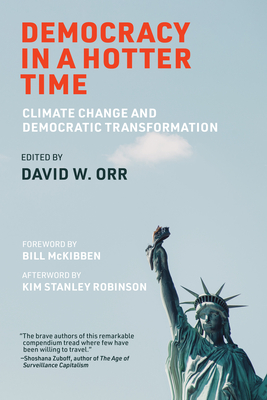 Democracy in a Hotter Time: Climate Change and Democratic Transformation
Publication Date:
September 19th, 2023
Usually Ships in 1 to 5 Days
Description
The first major book to deal with the dual crises of democracy and climate change as one interrelated threat to the human future and to identify a path forward.
Democracy in a Hotter Time calls for reforming democratic institutions as a prerequisite for avoiding climate chaos and adapting governance to how Earth works as a physical system. To survive in the "long emergency" ahead, we must reform and strengthen democratic institutions, making them assets rather than liabilities. Edited by David W. Orr, this vital collection of essays proposes a new political order that will not only help humanity survive but also enable us to thrive in the transition to a post–fossil fuel world.
Orr gathers leading scholars, public intellectuals, and political leaders to address the many problems confronting our current political systems. Few other books have taken a systems view of the effects of a rapidly destabilizing climate on our laws and governance or offered such a diversity of solutions.  These thoughtful and incisive essays cover subjects from Constitutional reform to participatory urban design to education; together, they aim to invigorate the conversation about the human future in practical ways that will improve the effectiveness of democratic institutions and lay the foundation for a more durable and just democracy.
Contributors
William J. Barber III, JD, William S. Becker, Holly Jean Buck, Stan Cox, Michael M. Crow, William B. Dabars, Ann Florini, David H. Guston, Katrina Kuh, Gordon LaForge, Hélène Landemore, Frances Moore Lappé, Daniel Lindvall, Richard Louv, James R. May, Frederick W. Mayer, Bill McKibben, Michael Oppenheimer, David W. Orr, Wellington Reiter, Kim Stanley Robinson, Anne-Marie Slaughter
About the Author
David W. Orr is Professor of Practice at Arizona State University and Paul Sears Distinguished Professor of Environmental Studies and Politics Emeritus. He is the author of eight books variously about education, climate, and ecological design, including Design on the Edge (MIT Press). He has been awarded nine honorary degrees and a dozen other awards, including lifetime achievement awards from the US Green Building Council and the North American Association for Environmental Education.
Praise for Democracy in a Hotter Time: Climate Change and Democratic Transformation
"A valuable book for climate and progressive activists alike."
—Kirkus Reviews