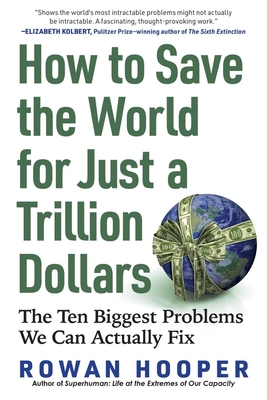 How to Save the World for Just a Trillion Dollars: The Ten Biggest Problems We Can Actually Fix
Publication Date:
April 5th, 2022
Publisher:
The Experiment
The MIT Press Bookstore
1 on hand, as of Nov 30 10:32am
(SS)
On Our Shelves Now
Description
What would you do with a trillion dollars? The ultimate thought experiment opens our eyes to ten world-changing ideas within our grasp
If we can come up with a trillion dollars to bail out banks, imagine what else we could do. Science journalist Rowan Hooper decided to find out, speaking with experts of all kinds about ten incredibly ambitious projects that— if realized—would secure profound, enduring benefits: trying to end global poverty, reverse climate change, extend our lifespans, refreeze the Arctic, save all endangered species, and more. Then, he dives into strategies and costs to see: How far would $1 trillion really go? You'll have to read on to learn which project he concludes would do the most good . . . but the biggest surprise is how many astonishing advances are actually within our grasp—if we dare to reach for them.
Praise for How to Save the World for Just a Trillion Dollars: The Ten Biggest Problems We Can Actually Fix
★ As heard on NPR's Science Friday
"Journalist Rowan Hooper imagines spending a trillion dollars—not on fancy dinners, sparkly jewels, or mega yachts, but on tackling ten global challenges. While a trillion dollars can't solve every problem, he estimates it would go a long way toward tackling disease, combating global warming, protecting biodiversity, or even establishing a moon base."—Science Friday
"Rowan Hooper shows that the world's most intractable problems might not actually be intractable, if we just devoted the resources to solving them. How to Spend a Trillion Dollars is a fascinating, thought-provoking work."—Elizabeth Kolbert, journalist and Pulitzer Prize–winning author of The Sixth Extinction
"What would you do with a trillion dollars? In this hopeful and very readable book, Rowan Hooper shows us how a thoughtful investment of financial capital could be used to solve the great challenges we face. Read this book and be inspired to change the world."—Michael E. Mann, climate scientist and author
"A fascinating, well-researched read that looks at what we could accomplish as a planet if we focused on some of the biggest challenges that affect us all, from curing disease to fighting climate change."—Marcus Mann, Amazon Editor
"I found this book incredibly hopeful. Something can be done NOW.  People have studied this, we can afford it, and a plan can be made. I am grateful to this author that he put it together."—Not Another Book Review
Acclaim from the UK
 
"Will someone just give Rowan Hooper a mere trillion dollars and let him, very sensibly, save the world?"—Caitlin Moran
"In a world of doom-scrolling, trembling on the brink of causing a mass extinction event that will devastate civilization, it's crucially important to point out that we already have the abilities needed not only to avoid catastrophe, but to thrive. That's what Hooper does in fascinating and exciting detail."—Kim Stanley Robinson
"At a moment when science is proving it can solve the most urgent of problems—given the right funding—Rowan Hooper asks a very interesting question. How much would it cost to solve all the world's other problems? . . . Like any good game, this is deadly serious. What starts off seeming absurd ends up feeling obvious. Why would we not invest in our future? As Hooper says, 'The world is full of extraordinary opportunities, and the vast majority are never undertaken.'"—James McConnachie, Sunday Times