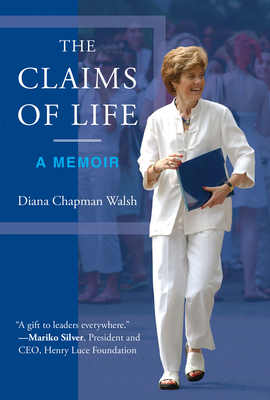 The Claims of Life: A Memoir
Publication Date:
November 7th, 2023
The MIT Press Bookstore
8 on hand, as of Nov 30 10:32am
(NEWM)
On Our Shelves Now
Description
The engaging memoir of a legendary president of Wellesley College known for authentic and open-hearted leadership, who drove innovation with power and love.
The Claims of Life traces the emergence of a young woman who set out believing she wasn't particularly smart but went on to meet multiple tests of leadership in the American academy—a place where everyone wants to be heard and no one wants a boss. In college, Diana Chapman met Chris Walsh, who became a towering figure in academic science. Their marriage of fifty-seven years brought them to the forefront of revolutions in higher education, gender expectations, health-care delivery, and biomedical research.
The Claims of Life offers readers an unusually intimate view of trustworthy leadership that begins and ends in self-knowledge. During a transformative fourteen-year Wellesley presidency, Walsh advanced women's authority, compassionate governance, and self-reinvention. After Wellesley, Walsh's interests took her to the boards of five national nonprofits galvanizing change. She kept counsel with Nobel laureates, feminist icons, and even the Dalai Lama, seeking solutions to the world's climate crisis.
With an ear tuned to social issues, The Claims of Life is an inspiring account of a life lived with humor, insight, and meaning that will surely leave a lasting impression on its readers.
Praise for The Claims of Life: A Memoir
Included on Forbes's the Best Higher Education Books For 2023
"Diana Chapman-Walsh, President Emerita of Wellesley College, has written an uplifting memoir, entitled The Claims of Life. Warm, tender, and honest, it's a book as much about living a meaningful live as it is being an effective college president. Walsh, who was Wellesley's president from 1993 to 2007, enjoyed a very successful career at her alma mater (a 1966 graduate, majoring in English), after several earlier positions, including academic posts at Boston University, where she earned her MS and PhD, and Harvard. From beginning at Wellesley with the "belief that I wasn't smart enough, that I had to work especially hard to hold my own," through a series of leadership opportunities and challenges, all shared with Chris, her (recently deceased) husband of 57 years, Walsh learned five lessons for being a trustworthy leader - question yourself, establish partnerships, resist the use of force when in power, value differences, and cultivate communities of self-support."
—Forbes