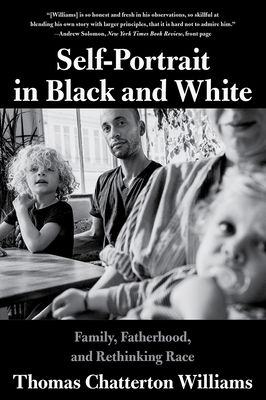 Self-Portrait in Black and White: Family, Fatherhood, and Rethinking Race
Publication Date:
September 15th, 2020
Publisher:
W. W. Norton & Company
The MIT Press Bookstore
1 on hand, as of Nov 30 10:32am
(SS:RI)
On Our Shelves Now
Description
A Time "Must-Read" Book of 2019
"[Williams] is so honest and fresh in his observations, so skillful at blending his own story with larger principles, that it is hard not to admire him." —Andrew Solomon, New York Times Book Review (front page)
The son of a "black" father and a "white" mother, Thomas Chatterton Williams found himself questioning long-held convictions about race upon the birth of his blond-haired, blue-eyed daughter—and came to realize that these categories cannot adequately capture either of them, or anyone else. In telling the story of his family's multigenerational transformation from what is called black to what is assumed to be white, he reckons with the way we choose to see and define ourselves. Self-Portrait in Black and White is a beautifully written, urgent work for our time.
Praise for Self-Portrait in Black and White: Family, Fatherhood, and Rethinking Race
Challenges us to think beyond America's racial binaries.
— Zaid Jilani - The Guardian
An elegant and sharp-eyed writer.… In a publishing environment where analyses of race tend to call out white fragilities and catalogue historical injustices, Self-Portrait in Black and White is a counterintuitive, courageous addition.
— Carlos Lozada - The Washington Post
A fluent, captivating, if often disquieting story.… We witness Williams on a journey of both self-discovery and self-creation, and his memoir is most valuable as a way deeper into, as opposed to a way out of, race talk.
— Emily Bernard - Harper's
Williams has the essential things a writer needs—command of language, complexity and depth of thought, and, maybe above all, courage. In Self-Portrait in Black and White he sticks his neck way out in pursuit of unfashionable, necessary truths. This book brings a blast of fresh air that will change your thinking about race in America.
— George Packer, author of The Unwinding: An Inner History of the New America
Thomas Chatterton Williams' Self-Portrait in Black and White is a gorgeously written and deeply knowledgeable account of fatherhood, identity, and race. Tender and probing, respectful of intellectual disagreement and of the raw emotions these subjects can stir, it nevertheless proceeds fearlessly and rigorously toward his own original and challenging conclusions. This is a book that will surely provoke, inform, and move readers, regardless of where they stand on the political and philosophical divide.
— Phil Klay, author of Redeployment
This small book poses a very large question: How to become a self? Williams uses his own story to remind us that inner freedom depends on escaping the insidious categories of history and the suffocating clichés of the present. It is a stirring call to genuine liberation.
— Mark Lilla, author of The Once and Future Liberal
In fifty years, smart students will be writing senior theses seeking to understand why anyone in the early twenty-first century found anything in Self-Portrait in Black and White at all controversial. For now, curl up with this book to join a conversation on race about progress rather than piety, thought rather than therapy.
— John McWhorter, author of The Creole Debate
This moving and engrossing memoir is unfashionable in the best of ways. At a time when even purportedly optimistic visions of the future seem to assume that Americans will always be defined by the color of their skin, Thomas Chatterton Williams makes us dream of a future in which the importance of race will recede, and we are finally able to love each other for who we truly are. An energizing book by one of the greatest writers of our time.
— Yascha Mounk, author of The People vs. Democracy
With Self-Portrait in Black and White Thomas Chatterton Williams has given us an elegantly rendered and trenchantly critical reflection on 'race' and identity—one that is perfectly suited to our time. This is a subtle, unsettling, and brave book. Using his own journey through life as point of departure, Williams launches a major assault on the conventional wisdom about racial categorization in America. Not only does he envision a New World; he dares to point the way toward how we all might yet arrive on those uncharted shores.
— Glenn Loury, professor of economics and faculty fellow, Watson Institute, Brown University
Thomas Chatterton Williams has written a brave and powerful book that I could not put down. At a time when white supremacy is resurgent in many countries, should we fight it by insisting on the equality of the races or the elimination of race as a social and biological category? It is a question that needs to be asked and a debate that needs to be had.
— Anne-Marie Slaughter, CEO, New America