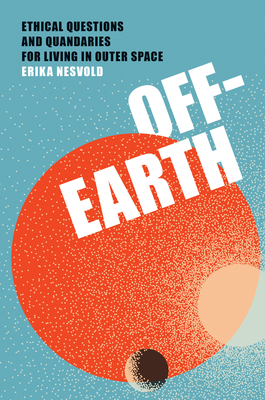 Off-Earth: Ethical Questions and Quandaries for Living in Outer Space
Publication Date:
March 7th, 2023
The MIT Press Bookstore
8 on hand, as of Dec 5 4:07pm
(GS:CO)
On Our Shelves Now
Description
Can we do better in space than we've done here on Earth?
We've pinpointed the destination, refined the technology, designed the habitat, outfitted our space residents. Are we forgetting something? A timely reminder that it's not just rocket science, this thought-provoking book explores the all-too-human issues raised by the prospect of settling in outer space. It's worth remembering, Erika Nesvold suggests, that in making new worlds, we don't necessarily leave our earthly problems behind. Accordingly, her work highlights the complex ethical challenges that accompany any other-worldly venture—questions about the environment, labor rights, and medical ethics, among others.
 
Any such venture, Nesvold contends, must be made on behalf of all humanity, with global input and collaboration. Off-Earth thus includes historical and contemporary examples from outside the dominant Western/US, abled, and privileged narrative of the space industry. Nesvold calls on experts in ethics, sociology, history, social justice, and law to launch a hopeful conversation about the potential ethical pitfalls of becoming a multi-planet species—and, ideally, to shed light on similar problems we presently face here on Earth.
 
Space settlement is rapidly becoming ever more likely. Will it look like the utopian vision of Star Trek? Or the dark future of Star Wars? Nesvold challenges us to decide.
Praise for Off-Earth: Ethical Questions and Quandaries for Living in Outer Space
"'What kind of world do we want our descendants in space to inhabit?' asks astrophysicist Nesvold in her thought-provoking debut. Expanding on her podcast, Making New Worlds, she ponders the ethics of space settlement...Nesvold's timely warning is bolstered by nuanced ethics and her careful attention to how colonization has historically been accompanied by injustice and violence. This raises hard questions that deserve serious consideration."
—Publishers Weekly
"Astrophysicist Nesvold (host of the podcast Making New Worlds) addresses a variety of questions about the ethical and social aspects of living and working in space. Many issues should be considered and defined before humans build settlements in space or attempt long-term Star Trek–type missions, where citizens of a near-utopian society work peaceably together and boldly venture into space to explore the galaxy. Expanding upon the information presented on her podcast, the author considers questions such as making outer space accessible to all and prioritizing human rights and ethics. She emphasizes the need for including humanities perspectives in the discussion, not just STEM-oriented ideas. Philosophers, anthropologists, and sociologists can provide insights into the "why" of space travel, whereas scientists and engineers tend to focus on the "how." As Nesvold suggests, government agencies and private companies need to spend more time thinking about how to build communities in space based on ethical considerations and cultural values. This well-researched and accessible book is for general readers or those interested in the philosophy of science or the ethics of space travel."
—Library Journal
"Off-Earth will amaze you: On nearly every page, it will have your jaw dropping in response to mind-blowing revelations. . . . Off-Earth: Ethical Questions and Quandaries for Living in Outer Space is really, really good."
—Ars Technica
"Imaginative and captivating, Erika Nesvold's Off-Earth poses vital, wide-ranging ethical questions about the future of human communities in outer space. . . . Brilliant and thought-provoking, Off-Earth will not only challenge your assumptions about future worlds, but will change your understanding of the values and desires that shape the world today."
—Foreword Reviews