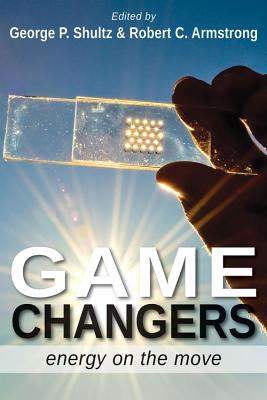 Game Changers: Energy on the Move
Publication Date:
June 17th, 2014
Publisher:
Hoover Institution Press
The MIT Press Bookstore
1 on hand, as of Nov 30 10:32am
(MITA)
On Our Shelves Now
Description
It is becoming increasingly obvious that the United States needs reliable and inexpensive energy to propel our economy and protect our national security interests. Game Changers presents five research and development efforts from American universities that offer a cheaper, cleaner, and more secure national energy system. Drawing from the efforts of the MIT Energy Initiative (MITEI) and other leading university research centers, the book describes some of the energy innovations that will transform our future: natural gas from shales, solar photovoltaics, grid-scale electricity storage, electric cars, and LED lighting. For each of these innovations, the authors detail what is available today, what is near at hand, and what is on the horizon. In addition, they show how extreme energy reliability and performance demands put the United States military at the leading edge of driving energy innovations, and survey potentially game-changing energy technologies currently being put into use by the U.S. Army, Navy, Marine Corps, and Air Force, on base and in forward deployment. The more choices our laboratories put on the table, the less constrained we are in using them to reach the things we really care about—health, family, business, culture, faith, and delight. This is what game changers are ultimately about.
About the Author
George Pratt Shultz is the Thomas W. and Susan B. Ford Distinguished Fellow at the Hoover Institution. He is one of two individuals who have held four different cabinet posts; has taught at three of this country's great universities; and for eight years was president of a major engineering and construction company. Shultz was sworn in on July 16, 1982, as the sixtieth US secretary of state and served until January 20, 1989. He is advisory council chair of the Precourt Institute for Energy at Stanford University, chair of the MIT Energy Initiative External Advisory Board, and chair of the Hoover Institution's Shultz-Stephenson Task Force on Energy Policy. He has also authored many books, most recently Issues on My Mind: Strategies for the Future. Robert C. Armstrong is director of MITEI. He was cochair of the Energy Research Council that laid the groundwork for MITEI and served as deputy director for the initiative's initial six years, during which time it funded more than eight hundred research projects. Armstrong is the Chevron Professor of Chemical Engineering and has been a member of the MIT faculty since 1973. He headed the Department of Chemical Engineering from 1996 to 2007. His research interests include polymer fluid mechanics, rheology of complex materials, and energy. In 2008, Armstrong was elected into the National Academy of Engineering for conducting outstanding research on non-Newtonian fluid mechanics, coauthoring landmark textbooks, and providing leadership in chemical engineering education.