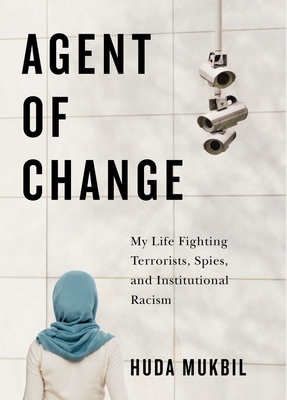 Agent of Change: My Life Fighting Terrorists, Spies, and Institutional Racism
Publication Date:
May 1st, 2023
Publisher:
McGill-Queen's University Press
The MIT Press Bookstore
1 on hand, as of Dec 7 10:28am
(POLSI)
On Our Shelves Now
Description
In Agent of Change Huda Mukbil takes us behind the curtain of a leading spy agency during a fraught time, recounting her experiences as an intelligence officer for the Canadian Security Intelligence Service. Mukbil was the first Black Arab-Canadian Muslim woman to join CSIS and was at the forefront of the fight against terrorism after 9/11. Mukbil's mastery of four languages quickly made her a counterterrorism expert and a uniquely valuable asset to the organization. But as she worked with colleagues to confront new international threats, she also struggled for acceptance and recognition at the agency. Following the American-led invasion of Iraq in 2003 and the rise of homegrown extremism, Mukbil was framed as an inside threat. Determined to prove her loyalty, while equally concerned about the surveillance and profiling of Muslims and revelations of Western agencies' torture and torture by proxy, Mukbil started to question CSIS's fluctuating ethical stance in relation to its mandate. Her stellar work on a secondment to MI5, the British Security Service, earned commendation; this shielded her, but only temporarily, from the hostile workplace culture at CSIS. Ultimately, Mukbil and a group of colleagues went public about the pervasive institutional discrimination undermining CSIS and national security from within.Mukbil's expertise in international security and her commitment to workplace transparency drove important changes at CSIS. Dazzlingly written, her account is an eye-opener for anyone wanting to understand how racism, misogyny, and Islamophobia undermine not only individuals, but institutions and the national interest – and how addressing this openly can tackle populism and misinformation.
Praise for Agent of Change: My Life Fighting Terrorists, Spies, and Institutional Racism
"A gripping, illuminating account of an accomplished intelligence officer's battle against systemic discrimination at Canada's spy service. Mukbil pulls aside the curtain and shows us the many roadblocks faced by racialized professionals. Rich in detail, this is an extraordinary and highly readable book." Robert Fife, Globe and Mail bureau chief, Ottawa
"Mukbil's captivating memoir shows that love for one's country must be sutured with the courage to speak the truth: a bravery both required and despised in Canadian national intelligence circles. She deftly navigates the complicated landscape of belonging in Canada and gives a defiant and resilient voice to the psychological toll of systemic racism." Debra Thompson, author of The Long Road Home
"Mukbil is a trailblazer in a secret world often dominated by men. Her powerful story combines an invaluable contribution to counterterrorism in Canada and Britain with a never-before-seen picture of spy agencies. It is utterly absorbing." Richard Kerbaj, author of The Secret History of the Five Eyes
"After years of work in one of the country's most opaque institutions, Mukbil offers the kind of candid prose on race, identity, and inclusion that's rare to find on Canadian bookshelves. Straightforward and courageous, Agent of Change artfully unravels our deepest misconceptions about belonging in our country - and our world." Erica Lenti, deputy editor, features, at Chatelaine