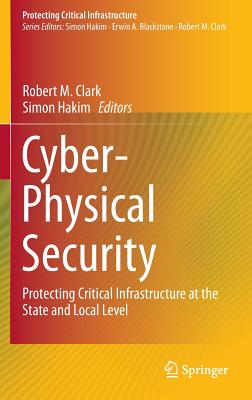 Cyber-Physical Security: Protecting Critical Infrastructure at the State and Local Level
Publication Date:
August 18th, 2016
Usually Ships in 1 to 5 Days
Description
Protecting Critical Infrastructure at the State Provincial and Local Level: Issues in Cyber-Physical Security.- Cybersecurity Terminology and Frameworks.- Assessing Cyber Threats and Solutions for Municipalities.- Cyber Perimeters for Critical Infrastructures.- A Security Evaluation of a Municipal Computer Network: The Case of Collaboration between the City of Pittsburgh and Carnegie Mellon University.- Cyber Risks in the Marine Transportation System.- Creating a Cybersecurity Culture for Your Water/Waste Water Utility.- The Community Cyber Security Maturity Model.- Fighting Cybercrime: A Joint Effort.- Cybersecurity Challenges: The Israeli Water Sector Example.- Efforts to Get People Involved In Cyber-Physical Security: Case Studies of Australia And Singapore.- Cyber Security, Trust-Building and Trust-Management: As Tools for Multi-Agency Cooperation within the Functions Vital To SocietyAn Analysis of the Nature of Spam as Cybercrime.- Securing the Automotive Critical Infrastructure
About the Author
Robert M. Clark is currently an independent consultant in environmental engineering and public health. He is an Adjunct Professor in Civil and Environmental Engineering at the University of Cincinnati and recently completed service as a member of the National Research Council's Committee on ''Public Water Distribution Systems: Assessing and Reducing Risks.'' As a consultant Dr. Clark has worked on homeland security issues with Sandia National Laboratories, the US Environmental Protection Agency (USEPA) and Rutgers University (Newark Campus), among others. He served as an environmental engineer in the U.S. Public Health Service and the U.S. EPA from 1961 to August 2002 and was Director of the USEPA's Water Supply and Water Resources Division (WSWRD) for 14 years (1985-1999). In 1999 he was appointed to a Senior Expert Position in the USEPA with the title Senior Research Engineering Advisor and retired from the USEPA in August of 2002. Dr. Clark was a member of USEPA's Water Protection Task Force and was USEPA's liaison for homeland security research. Dr. Clark has published over 380 papers and 5 books and has been professionally active in several organizations where he served in numerous leadership positions. He is a lifetime member of both the American Water Works Association (AWWA) and the American Society of Civil Engineers (ASCE). Dr. Clark is recognized both nationally and internationally and has received numerous awards for his work. Dr. Clark holds B.S. degrees in Civil Engineering from Oregon State University (1960), and in Mathematics from Portland State University (1961), M.S. degrees in Mathematics from Xavier University (1964), and Civil Engineering from Cornell University (1968) and a Ph.D. in Environmental Engineering from the University of Cincinnati (1976). He is a registered engineer in the State of OhioSimon Hakim is a professor of economics and director of the Center for Competitive Government at Temple University. He is currently editing a book series on Protecting Critical Infrastructures with Springer Publisher. He earned M.A. and Ph.D. degrees in Regional Science from the University of Pennsylvania. He also holds an M.Sc. degree in City and Regional Planning from the Technion, Israel Institute of Technology, and a B.A. in Economics at Hebrew University in Jerusalem. His special areas of research and teaching are privatization, public policy, private/public police, and homeland security. Dr. Hakim has published 58 scientific articles in leading economic, criminal justice, security, and public policy journals. He has written over 40 professional articles and edited 14 books. He collaborated with Professor Blackstone on a major textbook dealing with the security industry. He is constantly invited to teach classes on privatization, and international economics in MBA programs worldwide. Dr. Hakim has conducted several funded research and consulting projects for the U.S. Departments of Justice and Labor, the Commonwealth Foundation, the Independent Institute, the Alarm Industry Research and Education Foundation, the City of Philadelphia, the Philadelphia International Airport, ADT, Vector Security, and other leading security companies.