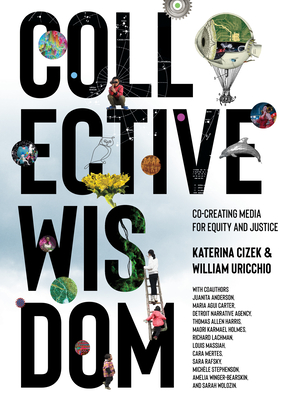 Collective Wisdom: Co-Creating Media for Equity and Justice
Publication Date:
November 1st, 2022
The MIT Press Bookstore
11 on hand, as of Sep 26 1:27pm
(STS)
On Our Shelves Now
Description
How to co-create—and why: the emergence of media co-creation as a concept and as a practice grounded in equity and justice.
Co-creation is everywhere: It's how the internet was built; it generated massive prehistoric rock carvings; it powered the development of vaccines for COVID-19 in record time. Co-creation offers alternatives to the idea of the solitary author privileged by top-down media. But co-creation is easy to miss, as individuals often take credit for—and profit from—collective forms of authorship, erasing whole cultures and narratives as they do so. Collective Wisdom offers the first guide to co-creation as a concept and as a practice, tracing co-creation in a media-making that ranges from collaborative journalism to human–AI partnerships.
 
Why co-create—and why now? The many coauthors, drawing on a remarkable array of professional and personal experience, focus on the radical, sustained practices of co-creating media within communities and with social movements. They explore the urgent need for co-creation across disciplines and organization, and the latest methods for collaborating with nonhuman systems in biology and technology. The idea of "collective intelligence" is not new, and has been applied to such disparate phenomena as decision making by consensus and hived insects. Collective wisdom goes further. With conceptual explanation and practical examples, this book shows that co-creation only becomes wise when it is grounded in equity and justice.
With Coauthors
Juanita Anderson, Maria Agui Carter, Detroit Narrative Agency, Thomas Allen Harris, Maori Karmael Holmes, Richard Lachman, Louis Massiah, Cara Mertes, Sara Rafsky, Michèle Stephenson, Amelia Winger-Bearskin, and Sarah Wolozin
About the Author
Katerina Cizek, an Emmy and Peabody–winning documentarian, is the Artistic Director and Cofounder of the Co-Creation Studio at MIT Open Documentary Lab. William Uricchio is Professor of Comparative Media Studies at MIT, where he is also Founder and Principal Investigator of the MIT Open Documentary Lab and Principal Investigator of the Co-Creation Studio.