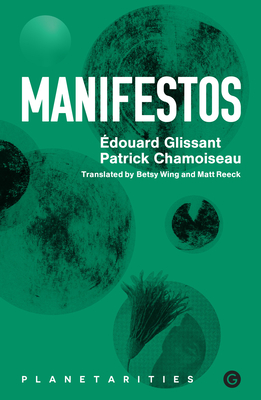 Manifestos (Goldsmiths Press / Planetarities)
Publication Date:
September 20th, 2022
Publisher:
Goldsmiths Press
The MIT Press Bookstore
1 on hand, as of Nov 28 10:37am
(POLSI)
On Our Shelves Now
Description
The collected manifestos of Édouard Glissant and Patrick Chamoiseau: for a postcolonial response to planetary crisis.
Manifestos brings together for the first time in English the manifestos written by Édouard Glissant and Patrick Chamoiseau between 2000 and 2009. Composed in part in the aftermath of Barack Obama's election in 2008, the texts resonate with the current context of divided identities and criticisms of multiculturalism. The individual texts grapple with concrete historical and political moments in France, the Caribbean, and North America. Across the manifestos, as well as two collectively signed op-eds, the authors engage with socio-political aspects of climate catastrophe, resource extraction, toxicity, and neocolonialism.  
 
Throughout the collection, Glissant and Chamoiseau engage with key themes articulated through their poetic vocabulary, including Relation, globalization, globality (mondialité), anti-universalism, métissage, the tout-monde ("whole-world") and the tout-vivant ("all-living," including the relationship of humans to each other and "nature"), créolité and the creolization of the world, and the liberation from community assignations in response to individualism and neoliberal societies.  
 
Translated as the first volume in the Planetarities series with Goldsmiths Press, the themes of Manifestos resonate with the planetary as they work in response to contemporary forms of (economic) globalization, western capitalism, identity politics, and urban, digital and cosmic ecosystems, as well as the role of the poet-writer. A distinguishing feature of this publication is its interventional aspect, which prioritizes engaged scholarship and practice while demonstrating the relevance of the poetic in response to the urgencies of planetary crisis.
About the Author
Édouard Glissant (1928–2011) was a leading voice in debates centering on the postcolonial condition and on the present and future of globalization. Prolific as both a theorist and a literary author, Glissant started his career as a contemporary of Frantz Fanon in the early days of Francophone postcolonial thought. In the latter part of his career Glissant's vision pushed beyond the boundaries of postcolonialism to encompass the contemporary phenomenon of globalisation. Glissant is widely recognized as one of the most influential figures in Caribbean thought and cultural commentary, and Francophone literature.
 
Patrick Chamoiseau was born in Fort-de-France, Martinique. After studying law at universities in Martinique and Paris, he became a social worker. Although he is principally known for his novels, Chamoiseau has ranged broadly into other genres. He has written autobiographical narratives, assembled a collection of folktales, and been at the forefront of the theoretical debates surrounding créolité, or creoleness. He has also written for the theater, contributed to discussions on contemporary Martinican and Caribbean politics, and collaborated on several photographic essays. A significant number of his fiction and nonfiction works have been translated into other languages.