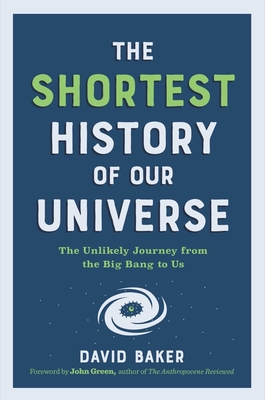 The Shortest History of Our Universe: The Unlikely Journey from the Big Bang to Us (Shortest History Series)
Publication Date:
May 2nd, 2023
Publisher:
The Experiment
The MIT Press Bookstore
4 on hand, as of Nov 30 10:32am
(GS:CO)
On Our Shelves Now
Description
A complete history of the universe, spanning 13.8 billion years in an ultra-accessible, uncommonly illuminating, exhilarating chronicle of key events
"Baker introduces us not only to the history of our species and our planet, but the history of our vast universe."—from the foreword by John Green, author of The Anthropocene Reviewed and The Fault in Our Stars
In this thrilling history, David Baker captures the longest-possible time span—from the Big Bang to the present day—in an astonishingly concise retelling. His impressive timeline includes the "rise of complexity" in the cosmos and the creation of the first atoms; the origin of all galaxies, stars, and our solar system; and the evolution of life on Earth, from tiny single-celled organisms to human beings.
Weaving together insights across the sciences—including chemistry, physics, biology, archaeology, and anthropology—Baker answers the fundamental questions: How did time begin? Why does matter exist? What made life on Earth the way it is? He also argues that never before has life on Earth been forced to adjust to a changing climate so rapidly, nor has one species ever been responsible for such sudden change. Baker's grand view offers the clearest picture of what may come next—and the role we can still play in our planet's fate.
Praise for The Shortest History of Our Universe: The Unlikely Journey from the Big Bang to Us (Shortest History Series)
"Baker introduces us not only to the history of our species and our planet, but the history of our vast universe."—from the foreword by John Green, author of The Anthropocene Reviewed and The Fault in Our Stars
Praise for the Australian edition
"It's quite a feat to . . . fit this Big History into a 'shortest history.'"—Insights Magazine
"Operates at such a vast scale that it cannot help but brush up against the eternal and the profound."—Kurt Johnson,Sydney Morning Herald