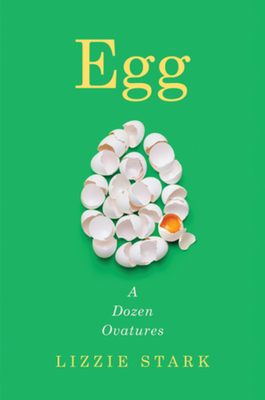 Egg: A Dozen Ovatures
Publication Date:
March 28th, 2023
Publisher:
W. W. Norton & Company
The MIT Press Bookstore
1 on hand, as of Nov 29 10:27am
(GAST)
On Our Shelves Now
Description
An unconventional history of the world's largest cellular workhorse, from chickens to penguins, from art to crime, and more.
The egg is a paradox—both alive and not alive—and a symbol as old as culture itself. In this wide-ranging and delightful journey through its natural and cultural history, Lizzie Stark explores the egg's deep meanings, innumerable uses, and metabolic importance through a dozen dazzling specimens.
From Mali to Finland, mythologies around the globe have invested the egg with powers of regeneration and fecundity, often ascribing the origin of the world to a cosmic egg. An oracle to Romans, fought over by Gold Rush gangs, used as the foundation of the Clown Egg Registry, and blasted into space, the egg has taken on larger proportions than, say, the ovum of an ostrich.
It has starred in global dishes from the Korean comfort food ttukbaegi gyeranjjim to the less regaled yet iconic soft-boiled egg. Stark writes a biography of French-born chef Jacques Pépin through his egg creations, and weaves in her personal experiences, like attempting to make the perfect omelet or trying her hand at pysanky—the Ukrainian art of egg decoration. She also explores her fraught relationship to the eggs in her body due to a familial link to cancer, and shares her delight in becoming a mother.
Filled with colorful characters and fascinating morsels, Egg is playful, informative, and guarantees that you'll never take this delicate ovoid for granted again.
Praise for Egg: A Dozen Ovatures
Stark proves to be an excellent storyteller…This delightful paean to the egg is equal parts fun, philosophical, educational, and irreverent.
— Publishers Weekly
Stark's perky prose and awe make for entertaining reading…Beyond the yolk and white, eggs are full of surprises.
— Booklist
Egg is cheeky, playful, and deeply informative—in short, a complete delight.
— Jennifer Egan, author of The Candy House
Crack this book like an egg and suck up 200 pages of Lizzie Stark delightfulness! Here is early career Jacques Pepin making sous vide eggs at Howard Johnson's! Gender-shifting chickens! Greedy eggers! Maniacal collectors! Egg is eclectic and funny, informative and endlessly surprising, but also deeply personal. (Stark's genes set her up with an ovarian cancer risk second only to hens'.) Like the egg itself, this book is a perfect, miraculous package.
— Mary Roach, best-selling author of Fuzz
Lizzie Stark makes the egg her protagonist, tracing its biography in a dazzling probe of art, science, outer space, menus—and her body—across the globe. Imaginative and wildly original, Egg asks us to consider no less than the origin of everything and our role in maintaining the chicken-and-egg system.
— Marie Mutsuki Mockett, author of American Harvest
Egg bursts forth as a joyous triumph in the fresh field of body-part literature. Lizzie Stark writes with wit, verve, and warmth. I loved every page.
— Florence Williams, author of Heartbreak
Richly peppered with insight and a dash of humor, Lizzie Stark takes us on a fresh adventure to understand the humble foundation of life, the egg.
— Terry Hope Romero, coauthor of Veganomicon
Egg is one of those rare and voracious books that defies categorization. Lizzie Stark uses the egg as a means of hatching one startling inquiry after another. Like her culinary hero Jacques Pépin, Lizzie Stark makes magic out of the simplest ingredients: her insatiable curiosity, keen intelligence, and a literary style that is wry, elegant, and searching
— Steve Almond, author of Candyfreak and All the Secrets of the World