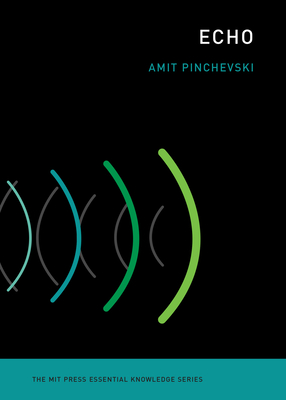 Echo (The MIT Press Essential Knowledge series)
Publication Date:
May 10th, 2022
The MIT Press Bookstore
4 on hand, as of Dec 8 10:45am
(EKS)
On Our Shelves Now
Description
An exploration of echo not as simple repetition but as an agent of creative possibilities.
In this volume in the MIT Press Essential Knowledge series, Amit Pinchevski proposes that echo is not simple repetition and the reproduction of sameness but an agent of change and a source of creation and creativity. Pinchevski views echo as a medium, connecting and mediating across and between disparate domains. He reminds us that the mythological Echo, sentenced by Juno to repeat the last words of others, found a way to make repetition expressive. So too does echo introduce variation into sameness, mediating between self and other, inside and outside, known and unknown, near and far. Echo has the potential to bring back something unexpected, either more or less than what was sent.
 
Pinchevski distinguishes echo from the closely related but sometimes conflated reflection, reverberation, and resonance; considers echolalia as an active, reactive, and creative vocalic force, the launching pad of speech; and explores echo as a rhetorical device, steering between appropriation and response while always maintaining relation. He examines the trope of echo chamber and both destructive and constructive echoing; describes various echo techniques and how echo can serve practical purposes from echolocation in bats and submarines to architecture and sound recording; explores echo as a link to the past, both literally and metaphorically; and considers echo as medium using Marshall McLuhan's tetrad.
Praise for Echo (The MIT Press Essential Knowledge series)
"Amit Pinchevski's Echo is a beautifully written, short, dense,and rich meditation on "echo," less the acoustic phenomenon per sethan the way the notion has been appropriated in Western culture, latosensu, over centuries, and its relevance to communication scholars.Navigating through multiple times and fields, it is also a plea for aholistic approach, in times of hyperspecialization." - International Journal of Communication
"Pinchevski dwells with increasing intention, detail, and focus upon the broader stakes of this study for scholars of sound, including the echo's disclosure of the "other-oriented" nature of human hearing, the "relational subjectivity" of aurality, and forms of echo-adjacent sonic mediation that "cut deep into the nature of being." - Sound Studies
"For such a compact book, ECHO offers a long read. It is bursting with ideas and references for sound studies scholars with a particular interest in literary studies as well as media and biology scholarship." - Journal of Sonic Studies