Discounted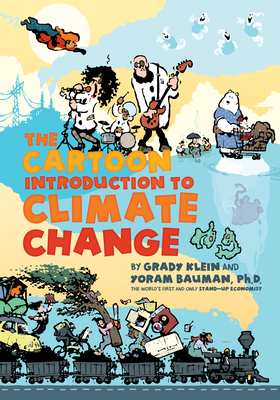 The Cartoon Introduction to Climate Change
Previous price:

$25.00
Current price:

$23.00
Publication Date:
June 5th, 2014
The MIT Press Bookstore
1 on hand, as of Nov 30 10:32am
(ENVST)
On Our Shelves Now
Description
Climate change is no laughing matter-but maybe it should be. The topic is so critical that everyone, from students to policy-makers to voters, needs a quick and easy guide to the basics. The Cartoon Introduction to Climate Change entertains as it educates, delivering a unique and enjoyable presentation of mind-blowing facts and critical concepts.
"Stand-up economist" Yoram Bauman and award-winning illustrator Grady Klein have created the funniest overview of climate science, predictions, and policy that you'll ever read. You'll giggle, but you'll also learn-about everything from Milankovitch cycles to carbon taxes.
 
If those subjects sound daunting, consider that Bauman and Klein have already written two enormously successful cartoon guides to economics, making this notoriously dismal science accessible to countless readers. Bauman has a PhD in economics and has taught at both the high school and college level, but he now makes a living performing at comedy clubs, universities, and conferences, sharing the stage with personalities as diverse as Robin Williams and Paul Krugman.
 
The authors know how to get a laugh-and they know their facts. This cartoon introduction is based on the latest report from the authoritative Intergovernmental Panel on Climate Change (IPCC) and integrates Bauman's expertise on economics and policy.
 
If economics can be funny, then climate science can be a riot. Sociologists have argued that we don't address global warming because it's too big and frightening to get our heads around. The Cartoon Introduction to Climate Change takes the intimidation and gloom out of one of the most complex and hotly debated challenges of our time.
References available at http://standupeconomist.com/cartoon-climate/
Praise for The Cartoon Introduction to Climate Change
"Yoram Bauman and Grady Klein find a way to make climate change humorous and comprehensible in this visuals-driven book."
— Los Angeles Times
"It's difficult to imagine that a book about climate change could be easy to understand, let alone funny. But Yoram Bauman and Grady Klein's The Cartoon Introduction to Climate Change, an illustrated book that walks readers through the basics of climate science, is both. ...approachable and engaging."
— Nature Conservancy
"Illustrated with deceptively simple black-and-white art that masterfully supports the text, this book provides a skillful tour of the issues that face our developing world and it serves as a model of how educational works of this sort should be crafted."
— Publishers Weekly
"An often amusing graphic primer about an issue the authors recognize as apocalyptically serious."
— Kirkus
"It's like An Inconvenient Truth meets Peanuts! (Not really, but that's somehow a very pleasant idea.)"
— The Stranger
"Not only is [The Cartoon Introduction to Climate Change] entertaining, it's packed full of facts, presented as cartoons and peppered with a few transparently-unrealistic zingers. You can read it in an afternoon, and so could your kid, or your grandparent. And thanks to the illustrations and simple analogies, I'd bet they will retain more of the information."
— Greenpeace's The EnvironmentaList Blog
"Don't let the format fool you -- this is sophisticated stuff. [Cartoon Introduction to Climate Change] draws on science from the latest IPCC report and explains technologies and policies that can make a positive difference -- all kidding aside."
— Conservation Magazine
"There is a lot to like about this graphic book"
— Earth Island Journal
"[The Cartoon Introduction to Climate Change is] not only a fun read to educate yourself or your crazy uncle about climate science basics, it's also full of practical information presented in simple but elegant illustrations and comic strips."
— Desmog blog
"The Cartoon Introduction to Climate Change is a 'must-read' for its accessible, balanced, and non-judgmental approach to an extremely thorny issue."
— Midwest Book Review
"Everybody should pick up a copy, it does look pretty interesting."
— AOL's The Street
"So if you've sort of had it with graphs and numbers about climate change, you'll enjoy this irreverent new take on the future of our planet."
— Upworthy
"The illustrations from Klein and text from Bauman present an important issue in such an accessible manner that it should be applauded."
— The SunBreak
"[The Cartoon Introduction to Climate Change] is a story, rather than just a textbook...suitable for teachers to use as a well-written and comprehensive introduction to an understanding of the climate system and climate change...a good read for anyone interested in the basics of climate change science but not wanting to tackle a more traditional textbook."
— Reports of the National Center for Science Education
"I know we're trashing the planet, but do we have to add to our misery by reading gloom and doom books about it? The Cartoon Introduction to Climate Change offers another way: learn some serious science, evaluate strategies for change, and have a good laugh in the process."
— Annie Leonard, creator of "The Story of Stuff"
"Are you curious about the science and economics of global warming? You can find many dull books on the subject. A better bet is The Cartoon Introduction to Climate Change, which tickles and teaches at the same time. Who says that sophistication is only in equations?"
— William Nordhaus, Sterling Professor of Economics, Yale University
"A clear, concise rendition of the story of human-induced climate change, candid and yet brimming with warm-hearted humor and well-founded optimism. Gently persuasive, beautifully illustrated... an innovative springboard for discussion of what we can do as individuals and as a society to turn down the heat in our planetary 'compost pile.'"
— John Michael Wallace, Professor Emeritus, Department of Atmospheric Sciences, University of Washington
"Climate is no laughing matter — but it beats crying. Maybe this is the secret passage into people's hearts and minds."
— James E. Hansen, former Director, Goddard Institute for Space Studies, author of "Storms of My Grandchildren"
"Fresh! Cheeky! Accurate and inspiring! An accessible, friendly, and fun explanation of climate change – free of politics, free of jargon, and fresh with insights. Cartoons you can believe in!"
— Jane Lubchenco, Wayne and Gladys Valley Professor of Marine Biology, Oregon State University
"Grady Klein and Yoram Bauman are a national treasure. The economics of climate policy has never been more accessible."
— Kevin Hassett, Senior Fellow and Director of Economic Policy Studies, American Enterprise Institute
"The Cartoon Introduction to Climate Change will tickle your fancy while expanding your mind. Highly recommended."
— Martin Weitzman, Professor of Economics, Harvard University
"Rarely do you read books that attempt to deal with the world's biggest problems and present the information in a way that the average public can absorb it. Bravo to Yoram Bauman and Grady Klein, and thank you on behalf of everyone who is deeply concerned about this issue."
— Mark Reynolds, Executive Director, Citizens Climate Lobby
"[This book] skillfully mixes the key facts of climate change with the playful and insightful juxtapositions that the comic form allows. Science communicators take notice. And if you're looking for a gift for that family member who's still a climate skeptic, this may be it." 
— Proximities
"The... jokiness is subsumed by this publication's obvious educational credentials, manifested in its diligent thoroughness (200 pages) and excellent glossary of terms."
— Ecologist