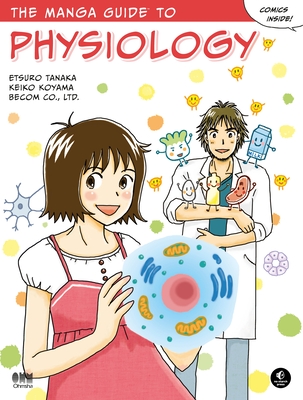 The Manga Guide to Physiology
Publication Date:
November 1st, 2015
Publisher:
No Starch Press
The MIT Press Bookstore
1 on hand, as of Dec 5 4:07pm
(GS)
On Our Shelves Now
Description
Student nurse Kumiko has just flunked her physiology exam and has one last shot at passing her makeup test. Lucky for her, newbie health science professor Kaisei needs a guinea pig for his physiology lectures.
Join Kumiko in The Manga Guide to Physiology as she examines the inner workings of the body while training hard for the campus marathon. You'll learn all about:
–How the digestive system and the Citric Acid Cycle break food down into nutrients and energy
–How the body regulates temperature and vital fluids
–The body's powerful cell defense system, led by helper T cells and enforced by macrophages
–The architecture of the central nervous system
–The kidneys' many talents: blood filtration, homeostasis, and energy production
You'll also gain insight into medical procedures like electrocardiograms, blood pressure tests, spirograms, and more.
Whether you're cramming for a test like Kumiko or just want a refresher, The Manga Guide to Physiology is your fun, cartoon guide to the human body.
Praise for The Manga Guide to Physiology
 "A great supplemental text for science classes or anyone who wants to learn or review the subject."
—Booklist
"The illustrated format [allows] for easy introduction of various diagrams and visual metaphors."
—Comics Worth Reading
"Manga, the hugely popular Japanese genre of graphic novels, turns out to be surprisingly well suited to teaching human physiology . . . An entertaining supplement to standard physiology textbooks."
—American Scientist
"These manga guides not only entertain, they teach and inform at the same time. Personally, I wish I had these in school."
—Parade

"A wonderfully crafted, entertaining, and enriching learning experience. This manga is most useful and educational for the budding student of science at the high school or collegiate level."
—In-Training, Albany Medical College

"An amazing marriage of description, explanation, everyday interactions and visual analysis...Highly recommended!"
—Scientific Computing

"Capturing the charm of its predecessors, this 240ish page book delivers not only delivers a decent storyline, but true to its title, serves as a great introductory guide to the various facets of the human body."
—The Otaku's Study
"A thoroughly accessible and user-friendly guide to physiology . . . an excellent text for classroom use or self-study, and especially ideal for students with a keen interest in careers related to health care! Highly recommended especially for high school, college, and public library science collections."
—Midwest Book Review