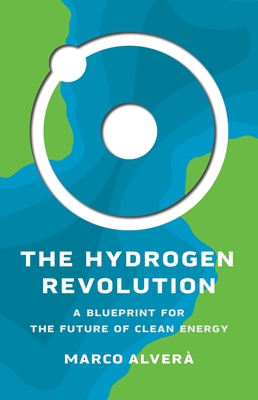 The Hydrogen Revolution: A Blueprint for the Future of Clean Energy
Publication Date:
November 16th, 2021
The MIT Press Bookstore
1 on hand, as of Dec 8 10:45am
(ENVST)
On Our Shelves Now
Description
Named a Financial Times Best Book of 2021
An energy expert shows why hydrogen can fight climate change and become the fuel of the future    
We're constantly told that our planet is in crisis; that to save it, we must stop traveling, stop eating meat, even stop having children. But in The Hydrogen Revolution, Marco Alverà argues that we don't need to upend our lives. We just need a new kind of fuel: hydrogen. From transportation and infrastructure to heating and electricity, hydrogen could eliminate fossil fuels, boost economic growth, and encourage global action on climate change. It could also solve the most bedeviling aspects of today's renewable energy—from transporting and storing wind and solar energy and their vulnerability to weather changes to the inefficiency and limited utility of heavy, short-lasting batteries.  
The Hydrogen Revolution isn't just a manifesto for a powerful new technology. It's a hopeful reminder that despite the gloomy headlines about the fate of our planet, there's still an opportunity to turn things around. 
Praise for The Hydrogen Revolution: A Blueprint for the Future of Clean Energy
"As pressure to tackle climate change grows, so has the idea that hydrogen will play a central role in a cleaner global energy system . . . [This] lively book is an engaging guide to a fuel that could go mainstream faster than expected."
 —Pilita Clark, Financial Times
"[An] urgent call to action."—Nature
"Not another climate change polemic but an enthusiastic argument for hydrogen's role in reversing it."
 —Kirkus
"Part manifesto, part handbook, Alverà's volume should be of interest to science buffs and environmentalists alike."
 —Publishers Weekly
"The policy, technological and economic arguments for hydrogen from solar are compelling, lucid and conclusive. But there is also a more emotive thread to The Hydrogen Revolution that could have an equal impact on the reading public… Alverà's book makes clear that hydrogen presents us with the big idea that provides the answer to our green energy challenges."
 —E&T Magazine
"No one company can solve the challenge of climate change. We share responsibility, not just across our direct emissions, but across our supply chain too.  We must take responsibility for the carbon footprint of our own technology and company, but we will also go beyond that. In his new book, Marco Alverà offers a clear and compelling vision and a blueprint to ensure its success."—Satya Nadella, chairman and CEO, Microsoft
"Engaging, authoritative and very timely. Marco Alverà spells Hydrogen's critical role as an energy store in the clean power transition, and who can do what right now to kick it over the line."—Mike Berners-Lee, author of There is No Planet B
"To achieve the climate goals from the Paris Agreement, we need a wholesale transformation of our energy system. This book sets out compellingly the role that Hydrogen plays in this transformation and is an important contribution to advance the energy transition."  —Mark Carney
"An engaging and insightful overview of the tiny molecule that could revolutionise climate action. Like hydrogen itself, Marco Alverà is a superb connector - of ideas, approaches and practical, positive solutions."  —Dr Gabrielle Walker
"In The Hydrogen Revolution Marco has written an invaluable explainer on hydrogen - a key to us achieving net zero. But perhaps more importantly the book is an urgent rallying call for action, a call policy-makers across the globe need to heed."  —Peter Mandelson
"This book presents a vision for the future based on hydrogen and renewables that is clear, grounded and hopeful. It also provides crucial tools and information to fully understand the forces shaping the energy transition - and get involved."  —Francesco La Camera, Director General of IRENA
"This book offers clear and thought-provoking ideas about the future of hydrogen. It can help inform the conversation on how to enable hydrogen to play an important role in global clean energy transitions."  —Dr Fatih Birol, IEA Executive Director
"A comprehensive and comprehensible vision for hydrogen from a top business leader."  —Jonathan Stern, Oxford Institute for Energy Studies
"Marco Alverà paints a vibrant and achievable vision for green hydrogen's role in the transition towards a sustainable global energy system." —Jules Kortenhorst, CEO of RMI
"A comprehensive and up to date piece of work on the compelling reality and value proposition of green hydrogen to decarbonize the hard to abate sectors, presented in an engaging, easy to read and assimilated style; a must read for all." —Paddy Padmanathan, CEO of ACWA Power
"In this excellently-written and engaging book, Marco Alverà sets out an attractive vision for a hydrogen-fuelled future." —Myles Allen, Director of Oxford Net Zero
"This book paints a clear road map to a greener future by placing Hydrogen at the centre of a transformed global energy complex. A must read for anyone wishing to be fluent in the broader climate discussion as Hydrogen holds many of the potentially affordable solutions. Marco Alvera's leadership in this space is to be applauded"—Richard J. Gnodde, CEO Goldman Sachs International
"The Hydrogen Revolution is both excellent and essential reading, particularly for leaders across the global community. Marco leverages his deep industry knowledge to help us see and understand a path to net-zero, energizing action and inspiring hope and confidence in a clean energy future."—William D. Green, Former CEO and Chairman Accenture
"A clear articulation of how hydrogen can help save the planet. I was skeptical about hydrogen's potential, but this book changed my mind. The Hydrogen Revolution is an essential read for every climate-conscious individual."—Charles Edgar Haldeman, Chairman of the Board, S&P Global
"Bringing change in society is always difficult but Marco Alverà, a passionate and highly knowledgeable global leader, proposes a call to action to achieve climate goals using the full potential of hydrogen. This book is comprehensive, insightful and so well written. A must read!"—Monique F. Leroux, Former President of Desjardins Group and corporate director
"A fascinating and remarkably easy read.  Marco Alvera's compelling views for energy transition show a practicable way forward."
 —Victor Halberstadt, Professor of Economics, Leiden University
 "Too often, the global push for net zero emissions as the centerpiece of strategies to manage climate change is presented as a test of political will. That's true, but as the limits of global cooperation are exposed, the need for innovation--and innovative thinking--is growing. That's why Marco Alverà's book is so important and so welcome"—Ian Bremmer, President and Founder of Eurasia Group and author of Us vs Them: The Failure of Globalism
"Marco Alverà makes is clear that hydrogen has a critical role to play as a fuel of the future. It's also clear we need to start making the transition now. This is a book for every policymaker and any concerned citizen." —Ajay Banga, Executive chairman of the board of directors of Mastercard.
"Marco Alvera's new book is a rare thing - a thoughtful and deliberate manifesto to galvanize investment and public support for an essential element of the zero-carbon energy future and a pathway to stronger global partnerships. The book is an instant classic - breezy, fun, personal and easy to read, the book presents vivid and actionable choices to all readers. Alvera skillfully makes some very complex parts of the energy system easy to understand - a marvel in our jargon-strewn field. Stop reading this note already and read the book!"—Dr Julio Friedman, Senior Research Scholar at the Center on Global Energy Policy at Columbia University SIPA
"This book provides a timely, comprehensive, and unusually compelling thesis on the need and role of hydrogen to proactively address the two major challenges facing the health of the planet, and the health of the planet's occupants: climate change and urban air quality. It explains how the pivot to hydrogen is a necessary step for not only the earth, but for the success of business itself, and is an essential read for everyone from students to policy makers."
 —Professor Scott Samuelsen, Distinguished Professor of Mechanical, Aerospace, and Environmental Engineering at the University of California, Irvine
"As hydrogen becomes feasible as the best source of clean energy for our future, Marco Alverà presents a thoughtful and clear groundbreaking book that explains how and why." 
 —Douglas Peterson, President and CEO, S&P Global
"This is an excellent contribution to the current and essential debate on the energy revolution  with a very powerful argument in favor of hydrogen, which will certainly be part of the solution to the global response to climate change."—José Manuel Barroso, Chairman of Goldman Sachs International and former president of the European Commission