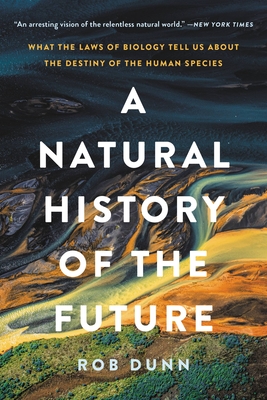 A Natural History of the Future: What the Laws of Biology Tell Us about the Destiny of the Human Species
Publication Date:
November 1st, 2022
The MIT Press Bookstore
1 on hand, as of Sep 26 1:27pm
(BIOMD)
On Our Shelves Now
Description
"An arresting vision of this relentless natural world" (New York Times) by a leading ecologist, who urges us to heed nature's iron laws 
Our species has amassed unprecedented knowledge of nature, which we have tried to use to seize control of life and bend the planet to our will. In  A Natural History of the Future, biologist Rob Dunn argues that such efforts are futile. We may see ourselves as life's overlords, but we are instead at its mercy. In the evolution of antibiotic resistance, the power of natural selection to create biodiversity, and even the surprising life of the London Underground, Dunn finds laws of life that no human activity can annul. When we create artificial islands of crops, dump toxic waste, or build communities, we provide new materials for old laws to shape. Life's future flourishing is not in question. Ours is. 
As ambitious as Edward O. Wilson's Sociobiology and as timely as Elizabeth Kolbert's The Sixth Extinction, A Natural History of the Future sets a new standard for understanding the diversity and destiny of life itself. 
Praise for A Natural History of the Future: What the Laws of Biology Tell Us about the Destiny of the Human Species
"An arresting vision of the relentless natural world — a world that is in equal measures creative, unguided and extravagant ... Life is not a passive force on the planet, and much as we might presume to sit in judgment of Creation — even sorting species by their economic value to us — we live on nature's terms. The sooner we recognize this, Dunn argues, the better."—Peter Brannen, The New York Times
"[A] lucid discussion …Dunn's absorbing analysis advocates making the most of the few certainties we have."—Scientific American
"Rob Dunn steers our attention toward the biota under our noses as part of a broader project to explicate the circumstances that prompt new life forms, and adaptive behaviors, to appear . . .  make[s] glaringly clear that we are not in command of what we have set in motion. The biodiversity and versatility on display in the animal kingdom of which we are part have lots to teach us. To remain at home in the world, we too will need to change."
 —The Atlantic
"Even if we could halt fossil fuel emissions tomorrow, we would still need to make some big changes. Evolutionary biologist Rob Dunn's timely new book, A Natural History of the Future: What the Laws of Biology Tell Us About the Destiny of the Human Species, is a guide to this complex problem and offers palatable solutions. … a clear and important read." 
 —Mary Ellen Hannibal, Science
"This is one of my favorite pop science books that I've read recently… in addition to lucid explanations and interesting anecdotes, Dunn offers a message of hope."—American Biology Teacher
"A stimulating exploration into how the laws of biology can help us 'understand the future into which we are—arms flailing, coal burning, and full speed ahead—hurling ourselves.' … Dealing reasonably with the circumstances requires knowledge and imagination. The author avoids the usual implausible how-to-fix-it conclusion… Instead, he offers a book that is less doomsday prophecy and more excellent primer on ecology and evolution. An imaginative, sensible education for those concerned with the fate of the Earth."
—Kirkus
"[Dunn argues] people can help mitigate the effects of climate change by valuing "the rest of life" outside humanity, as well as heeding the lessons that other life has to teach. Thoughtful and accessible, this deserves a wide readership."—Publishers Weekly
"In forecasting future ecology, Dunn enlists biological laws to predict what likely lies ahead for life on our planet, including us… Dunn engagingly explains biogeography, inventive intelligence, and speedy evolutionary reaction to changing conditions." —Tony Miksanek, Booklist
"A fascinating, shocking, and inspiring guide to the future by one of the most creative and eloquent biologists of our time. Dunn's book is packed full of insight from the latest scientific discoveries about the wonders and troubles of the living Earth."
 —David George Haskell, author of The Forest Unseen
"Speciations in weird urban habitats, viruses chasing hosts around the globe, and the greatest challenge life on Earth has faced for two million years: this is the fascinating and sobering ecology of the Anthropocene."
 —Rebecca Wragg Sykes, author of Kindred
"A timely, thought-provoking analysis, delivered in the affable prose that has become Dunn's hallmark."—Thor Hanson, author of Hurricane Lizards and Plastic Squid