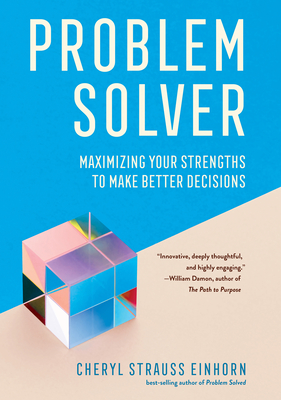 Problem Solver: Maximizing Your Strengths to Make Better Decisions (Area Method Publications)
Publication Date:
March 15th, 2023
Publisher:
Cornell Publishing
The MIT Press Bookstore
1 on hand, as of Nov 30 10:32am
(BUSIN)
On Our Shelves Now
Description
Our decisions are expressions of who we are and how we move through the world. Rarely, though, do we examine our decisions or even look inward to consider the psychology of our decision-making. Instead, we often make decisions based on what we call instinct (which relies on cognitive bias), false assumptions, mis-remembering, and mental mistakes. Truthfully, we don't see the world as it is; we see it as we are.
We can develop self-knowledge about our decision-making styles. We can wake ourselves up to how biases cloud our judgment and impede good decision-making-and we can counter bias. From there, we can transform our decision-making habits to make better big decisions alone and together. Problem Solver provides you with tools to identify:
- The five basic decision-making approaches, or "Problem Solver Profiles" (PSPs): Adventurer, Detective, Listener, Thinker, and Visionary
- Your dominant-and secondary-PSPs
- Tools to assess other peoples' PSPs
- Each PSP's decision-making strengths, blind spots, and biases
- How your PSP impacts your outlook on life and your risk appetite
- How to use your PSP to maximize your decision strengths
Replete with real-life examples and replicable strategies to apply new decision-making skills for your immediate benefit, Problem Solver will do more than help you look out into a future; it will equip you to move forward, with confidence, into your future.
About the Author
Cheryl Strauss Einhorn is the creator of the AREA Method, a decision-making system for individuals, companies, and nonprofits to solve complex problems. Cheryl is the founder of the decision-sciences company Decisive, offering leadership training, curriculum, coaching, and professional development services, and an adjunct professor at Cornell University. She is the author of the award-winning books Problem Solved and Investing in Financial Research. For more information visit areamethod.com.
Other Books in Series
Problem Solver: Maximizing Your Strengths to Make Better Decisions (Area Method Publications)
Einhorn, Cheryl Strauss
Hardcover
Investing in Financial Research: A Decision-Making System for Better Results (Area Method Publications)
Einhorn, Cheryl Strauss
Hardcover