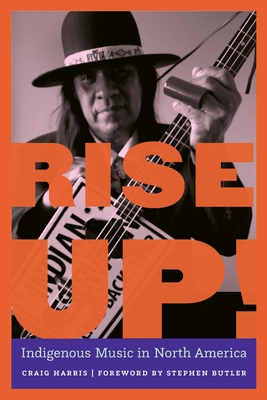 Rise Up!: Indigenous Music in North America
Publication Date:
November 1st, 2023
The MIT Press Bookstore
1 on hand, as of Dec 8 10:45am
(MUSIC)
On Our Shelves Now
Description
Music historian Craig Harris explores more than five hundred years of Indigenous history, religion, and cultural evolution in Rise Up! Indigenous Music in North America. More than powwow drums and wooden flutes, Indigenous music intersects with rock, blues, jazz, folk music, reggae, hip-hop, classical music, and more. Combining deep research with personal stories by nearly four dozen award-winning Indigenous musicians, Harris offers an eye-opening look at the growth of Indigenous music.
Among a host of North America's most vital Indigenous musicians, the biographical narratives include new and well-established figures such as Mildred Bailey, Louis W. Ballard, Cody Blackbird, Donna Coane (Spirit of Thunderheart), Theresa "Bear" Fox, Robbie Robertson, Buffy Sainte-Marie, Joanne Shenandoah, DJ Shub (Dan General), Maria Tallchief, John Trudell, and Fawn Wood.
About the Author
Craig Harris is a music historian, a skilled percussionist, and the author or coauthor of several books, including Heartbeat, Warble, and the Electric Powwow: American Indian Music and Crossing Borders: My Journey in Music. He is a former music educator who taught for a quarter of a century and currently plays with Gaea Star Band, with whom he cohosts the weekly Gaea Star Crystal Radio Hour for Dreamvisions 7 Radio Network. Stephen Butler founded Buffalo Jump Records after thirty years at Canyon Records and was awarded the Best Producer Award by the Native American Music Association in 2011.
 
Praise for Rise Up!: Indigenous Music in North America
"Spanning from its origins and early documentation to its renewed interest in the twenty-first century, Rise Up! brings Indigenous music full circle for the first time. The ancient heartbeat of the drum that connects each Indigenous person to the earth is finally explored."—Dom Flemons, multi-instrumentalist, singer, and songwriter
"Rise Up! takes us on a journey into the deepest part of ourselves, beyond the wounds of our recent past, and into the heartbeat of our history, toward an unrestricted future full of possibility. . . . This book will be a help to many on our educational, healing, and reconciliation journeys."—Sandra Sutter, Métis singer-songwriter
"Craig Harris has done a remarkable job in opening the door for anyone and everyone who reads this excellent book, introducing the reader to this amazing music as well as the lives of many who have created it and preserve it."—David Amram, renowned multi-instrumentalist, composer, arranger, and conductor