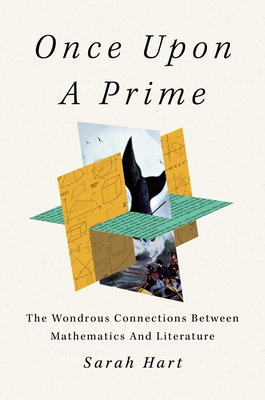 Once Upon a Prime: The Wondrous Connections Between Mathematics and Literature
Publication Date:
April 11th, 2023
Publisher:
Flatiron Books
The MIT Press Bookstore
2 on hand, as of Dec 7 10:28am
(MATH)
On Our Shelves Now
Description
A New York Times Book Review Editors' Choice

"Wide-ranging and thoroughly winning." —Jordan Ellenberg, The New York Times Book Review
"An absolute joy to read!" —Steven Levitt, New York Times bestselling author of Freakonomics

For fans of Seven Brief Lessons in Physics, an exploration of the many ways mathematics can transform our understanding of literature and vice versa, by the first woman to hold England's oldest mathematical chair.
We often think of mathematics and literature as polar opposites. But what if, instead, they were fundamentally linked? In her clear, insightful, laugh-out-loud funny debut, Once Upon a Prime, Professor Sarah Hart shows us the myriad connections between math and literature, and how understanding those connections can enhance our enjoyment of both.
Did you know, for instance, that Moby-Dick is full of sophisticated geometry? That James Joyce's stream-of-consciousness novels are deliberately checkered with mathematical references? That George Eliot was obsessed with statistics? That Jurassic Park is undergirded by fractal patterns? That Sir Arthur Conan Doyle and Chimamanda Ngozi Adichie wrote mathematician characters? From sonnets to fairytales to experimental French literature, Professor Hart shows how math and literature are complementary parts of the same quest, to understand human life and our place in the universe.
As the first woman to hold England's oldest mathematical chair, Professor Hart is the ideal tour guide, taking us on an unforgettable journey through the books we thought we knew, revealing new layers of beauty and wonder. As she promises, you're going to need a bigger bookcase.
Praise for Once Upon a Prime: The Wondrous Connections Between Mathematics and Literature
A New York Times Book Review Editors' Choice
A Most Anticipated Book (LitHub, BookRiot, Publishers Weekly, Next Big Idea Club)
"Wide-ranging and thoroughly winning…Funny…Fresh…Hart couldn't be better placed to revisit the relationship between mathematical and literary study."
—Jordan Ellenberg, The New York Times Book Review
"Wide-ranging...Hart takes readers on a fascinating tour of the world of numbers, finding connections between math and literature...Her prose throughout is clear, direct and jokey...Generally awesome."
—The Washington Post
"An exuberant enthusiasm for mathematics (and life in general) shines through Dr. Hart."
—The New York Times

"Professor Hart tackles these questions with the rigor of a mathematician—and the wit and creativity of a writer."
—The Economist
"Compelling…Detailed and amusing…[Once Upon a Prime] allows itself moments of levity and is engaging, permeated with a love of good writing as well as good math. Perhaps that is how it should be read: as a homage to both."
—New Scientist
"Ebullient…You can't help but be won over by Hart's playful exuberance—and she's up there with Richard Dawkins or Marcus du Sautoy in having the rare gift of being able to explain thorny scientific ideas using canny cultural references…A joyous reminder of the way so much human creativity comes from joining the dots between seemingly disparate fields."
—The Guardian (UK)
"This glorious compendium of mathematical fact and left-field literary appreciation deserves a large and varied readership…Once Upon a Prime is a joyful romp through the fascinating twinned history of maths and literature…This exuberant book will educate, amuse and surprise. It might even add another dimension to the way you read."
—The Times (UK)
"Charming…A playful, generous book that wears its considerable erudition lightly and offers a welcome mat to those of us who find ourselves on one side of the divide and trying to cross over."
—Washington Independent Review of Books
"Hart's good-natured enthusiasm for both books and numbers is sure to set even the most math-shy readers at ease. That enthusiasm is contagious. Joy abounds…That mathematics can be such a wellspring of inspiration—and, in the case of literature, often inseparable from artistic creation itself—is a case that Hart's debut makes with undeniable warmth and exuberance."
—Shelf Awareness (starred review)
"Ingenious…Readers will be amused."
—Kirkus
"Spirited…Entertaining."
—Publishers Weekly
"An absolute joy to read! Sarah Hart has created something wonderful: from nursery rhymes to Moby-Dick, she uncovers hidden links that I never could have imagined, but which I will never forget."
—Steven Levitt, New York Times bestselling author of Freakonomics
"As an actress and math advocate, I often long for people to see the poetry in mathematics. I love this book. Sarah Hart illuminates hidden patterns and beautiful mathematics in well-known literature in a way that, simply put, fills me with joy. Brava!"
—Danica McKellar, actress and New York Times bestselling author

"A hugely entertaining and well-written tour of the links between math and literature. Hart's lightness of touch and passion for both subjects make this book a delight to read. Bookworms and numberlovers alike will discover much they didn't know about the creative interplay between stories, structure, and sums."
—Alex Bellos, author of Here's Looking at Euclid
"This lively and personal book uncovers quirky nuggets of mathematics in a wide variety of literature, with new perspectives on books I've already read and intriguing mathematical reasons to seek out some books I haven't. Professor Hart is a welcome and fresh new voice in bringing math to a wider audience."
—Eugenia Cheng, author of x+y and How to Bake Pi