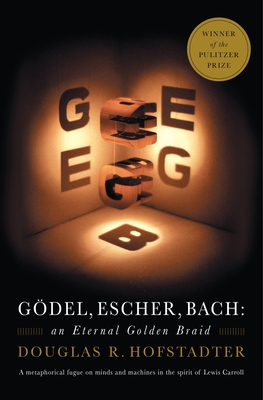 Godel, Escher, Bach: An Eternal Golden Braid
Publication Date:
February 5th, 1999
The MIT Press Bookstore
2 on hand, as of Nov 30 10:32am
(COGSC)
On Our Shelves Now
Description
Winner of the Pulitzer Prize
A metaphorical fugue on minds and machines in the spirit of Lewis Carroll
Douglas Hofstadter's book is concerned directly with the nature of "maps" or links between formal systems. However, according to Hofstadter, the formal system that underlies all mental activity transcends the system that supports it. If life can grow out of the formal chemical substrate of the cell, if consciousness can emerge out of a formal system of firing neurons, then so too will computers attain human intelligence. Gödel, Escher, Bach is a wonderful exploration of fascinating ideas at the heart of cognitive science: meaning, reduction, recursion, and much more.
Praise for Godel, Escher, Bach: An Eternal Golden Braid
Winner of the Pulitzer Prize in General Nonfiction
Winner of the National Book Award in Science
"Every few decades an unknown author brings out a book of such depth, clarity, range, wit, beauty and originality that it is recognized at once as a major literary event. This is such a work."—Martin Gardner, Scientific American
"In some ways, Godel, Escher, Bach is an entire humanistic education between the covers of a single book. So, for my next visit to a desert island, give me sun, sand, water and GEB, and I'll live happily ever after."—John L. Casti, Nature
"A brilliant, creative, and very personal synthesis without precedent or peer in modern literature."—The American Mathematical Monthly
"I have never seen anything quite like this book. It has a youthful vitality and a wonderful brilliance, and I think that it may become something of a classic."—Jeremy Bernstein
"A huge, sprawling literary marvel, a philosophy book disguised as a book of entertainment disguised as a book of instruction."—Atlanta Journal-Constitution
"A triumph of cleverness, bravura performance."—Parabola
"A wondrous book that unites and explains, in a very entertaining way, many of the important ideas of recent intellectual history."—Commonweal
"Godel, Escher, Bach was a triumphantly successful presentation of quite difficult concepts for a popular audience. There has been nothing like it in computer science before or since."—Ernest Davis, IEEE Expert