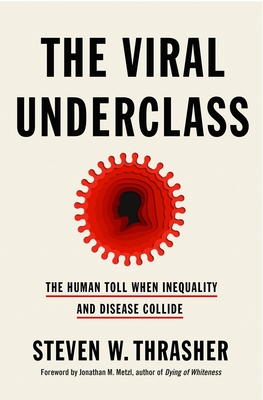 The Viral Underclass: The Human Toll When Inequality and Disease Collide
Publication Date:
August 2nd, 2022
The MIT Press Bookstore
1 on hand, as of Nov 30 10:32am
(BIOMD)
On Our Shelves Now
Description
**LONGLISTED FOR THE 2023 PEN/JOHN KENNETH GALBRAITH AWARD FOR NONFICTION**
**LONGLISTED FOR THE 2023 ANDREW CARNEGIE MEDALS FOR EXCELLENCE**
**WINNER OF THE 2022 POZ AWARD FOR BEST IN LITERATURE**
"An irresistibly readable and humane exploration of the barbarities of class...readers are gifted that most precious of things in these muddled times: a clear lens through which to see the world."
—Naomi Klein, New York Times bestselling author of This Changes Everything and The Shock Doctrine

From preeminent LGBTQ scholar, social critic, and journalist Steven W. Thrasher comes a powerful and crucial exploration of one of the most pressing issues of our times: how viruses expose the fault lines of society.
Having spent a ground-breaking career studying the racialization, policing, and criminalization of HIV, Dr. Thrasher has come to understand a deeper truth at the heart of our society: that there are vast inequalities in who is able to survive viruses and that the ways in which viruses spread, kill, and take their toll are much more dependent on social structures than they are on biology alone.
Told through the heart-rending stories of friends, activists, and teachers navigating the novel coronavirus, HIV, and other viruses, Dr. Thrasher brings the reader with him as he delves into the viral underclass and lays bare its inner workings. In the tradition of Isabel Wilkerson's Caste and Michelle Alexander's The New Jim Crow, The Viral Underclass helps us understand the world more deeply by showing the fraught relationship between privilege and survival.
Praise for The Viral Underclass: The Human Toll When Inequality and Disease Collide
**One of Kirkus Reviews' Best Nonfiction Books of 2022**
**One of them's 23 Favorite LGBTQ+ Books of 2022**
**One of Vulture's Best Epidemiology Books**
**One of Publishers Weekly's Top 10 Politics & Current Events books for Fall 2022**
**One of USA Today's 5 Must-Read New Books**
**One of The Stacks Best Books of 2022**
"Steven Thrasher has written the book we urgently need. Putting a compelling and human face on the millions of people affected by the course viruses like HIV and Covid take in the human population, he shows us how race, class, gender, and sexuality combine to help some survive pandemics and even profit from them, while others experience pandemic through their bodies in the form of illness, death, death of loved ones, shame, stigma, and financial insecurity. His analysis of the viral underclass should be required reading for everyone concerned with transforming unequal access to health care in a world where pandemic heightens the brutality of inequality."
—Michael Eric Dyson, New York Times bestselling author of Tears We Cannot Stop and What Truth Sounds Like
"A genre-defying work of journalism, memoir, and cultural critique, The Viral Underclass is underpinned by a theoretical model for understanding why certain populations are in consistently more danger of getting sick. It also reveals how deeply Dr. Steven W. Thrasher, a journalist and professor at Northwestern University, believes in community care and mutual aid, in the interconnectedness of living beings, and the importance of acknowledging it. Really, though, this is a book about people and the way they care for one another in the face of governmental and social neglect."
—Ilana Masad, for them
"The perfect book for this moment in time. Using his years of studying the effects of the HIV epidemic, Thrasher shows how viral epidemics expose the flaws in the modern American social system in the forms of racism, homophobia, classism, and ableism. Combining years of research with the personal stories of people living with these diseases or fighting for justice for those who are, this book speaks perfectly to the intersection of virology and activism."
—Vulture, "9 Great Books About Navigating Viruses Throughout History"
"The pandemic brought America's health inequities into stark relief, but The Viral Underclass illustrates that the problem isn't new, and that it is embedded more deeply than many of us realize… Thrasher, a gay Black man, brings figures from the viral underclass to life in this engaging, enraging read."
—The Boston Globe
"At once precise and sweeping, rigorous and inviting, The Viral Underclass fearlessly crosses the policed borders of academic disciplines and literary forms, creating an irresistibly readable and humane exploration of the barbarities of class. Through the sheer force of his story telling, Thrasher challenges us to abandon our fatal illusions of separateness in favor of an embrace of our place in a collective entanglement of bodies. Readers are gifted that most precious of things in these muddled times: a clear lens through which to see the world."
—Naomi Klein, New York Times bestselling author of This Changes Everything and The Shock Doctrine
"Brilliant…Stunning"
—Jonathan Van Ness
"A remarkable book."
—Amy Goodman
"Throughout this insightful and unflinching book, Thrasher is unafraid to let his anger shine, but he also consistently deploys love and compassion. In a text marked by mistreatment and loss, the author encourages hope...Powerful and revelatory, this is an essential, paradigm-shifting book."
—Kirkus Reviews, starred review
"I fully expected to encounter rigorous research and a full accounting of the relevant history in Dr. Steven W. Thrasher's The Viral Underclass: The Human Toll When Inequality and Disease Collide. But what excited me and kept me rapt the entire time was the astonishing level of craft and depth of compassion with which the book was written. More than just sets of facts, Dr. Thrasher illuminates truths, all of which implore us to live by the grandest, most liberating of all principles: love. The Viral Underclass is journalism and journey, science and sermon, astute articulation of grievance and pathway to healing. It is vital reading."
—Robert Jones, Jr., New York Times bestselling author of The Prophets
"LAST GREAT BOOK SOMEONE RECOMMENDED TO ME: My friends know me so well, that when I ask about what I should read they always send me au courant nonfiction recommendations, and The Viral Underclass: The Human Toll when Inequality and Disease Collide is certainly that. The book is about systems that make certain people more likely to contract and spread viruses, and is told through the lens of HIV and COVID. Thrasher doesn't go into the science of the illnesses, but rather the social and political constructs that increase the likelihood that marginalized groups of people (Black, queer, disabled, etc.) will get sick, have their lives radically altered, and/or die from these diseases. The book is smart and covers a lot of ground. And now, I'm recommending it to everyone I know."
—Traci Thomas, She Reads
"An important new book...[showing] we are all more vulnerable and intertwined than we realize."
—The Washington Post
"The Viral Underclass marks the beginning of a new epoch in cultural work. Steven Thrasher has utilized and finely crafted theory, memoir and reportage to show us what we've been doing the first few years of this century."
—Kiese Laymon, bestselling author of Heavy and winner of an Andrew Carnegie Medal
"A compelling and compassionate analysis of health disparities that delivers both wake-up call and gut-punch."
—Booklist, starred review
"It's hard to imagine that one single book could truly speak to the moment that we're in. But that's exactly what Steven Thrasher has achieved in The Viral Underclass...It's truly a riveting book. I almost had to devour it in one sitting. I just did not want to put it down...One of the most beautiful kind of pieces of craft I've encountered in a long time."
—Slate
A "beautifully written account illustrat[ing] the complex and textured relationship between disease and inequality."
—Science
"In The Viral Underclass, through a combination of broad and deep reporting and narrative storytelling, Steven Thrasher examines the ways HIV/AIDS and other viruses strike people and communities with deliberate intention. His book is essential reading for our current moment—and a signpost for understanding epidemics to come."
—Linda Villarosa, author of Under the Skin and contributor to the New York Times bestselling The 1619 Project
"Rigorous scholarship and intimate portraits of life and death on the margins make this a must-read."
—Publishers Weekly, starred review
"A page turner. An intimate view of how stigma and class inequality produce suffering at the hands of our two emblematic viruses: Covid and HIV. Thrasher tells a complex story of social stratification and injustice through very well drawn portraits of individuals in his life and in the world. Moving and compelling."
—Sarah Schulman, author of Let the Record Show: A Political History of ACT UP New York, 1987–1993
A "wide-ranging examination of how our society's ills exacerbate those of our bodies...[with] a sense of poetry."
—Jezebel
"The Viral Underclass is wonderful."
—Maris Kreizman
"Thrasher is an excellent investigator. The reader sees how and why the narratives develop in particular ways, and feels fury and despair, as well as occasional glimmers of hope."
—Nature
"A remarkable quality of Thrasher's book is his attentiveness to injustice on a large scale as well as in its most intimate forms... [making] the case for urgent change, envisioning a society that doesn't force people to expose themselves to sickness in order to survive."
—The New Republic
"Groundbreaking LGBTQ scholar, social critic and journalist Steven W. Thrasher, PhD, has spent his career studying HIV criminalization and how the virus has been policed in marginalized communities. This vital and potent book explores how viruses can expose the vast inequalities in our society, something we witnessed all too recently during the COVID-19 pandemic. Friends, activists and teachers shared their heartbreaking stories of navigating the coronavirus, HIV and other viruses with Thrasher, uncovering the devastating effects of privilege. The Viral Underclass is a powerful book that helps us to understand more fully the differences that determine who receives care when society is facing the deadly effects of a mysterious virus."
—POZ
"In this sometimes shocking, always fascinating book, Thrasher reveals how politics, money, and cultural scapegoating have cost lives throughout modern history. Along with solid reporting and impressive research, Thrasher introduces us to people who've been caught in the web of viral disease or are fighting to protect others—and his warm, compassionate character studies remind us of the human beings behind the statistics. You may be outraged by The Viral Underclass, but it's a gripping read and a powerful call to action."
—Apple Books
"An essential work…sweeping and profound."
—Shondaland
"[The Viral Underclass is] an articulation of illness politics as a practice of love...The portraits here are deeply moving. Thrasher has a way of capturing community activists in action by providing touching details about their character and work along with careful analysis of the structural violence they are up against."
—Lisa Deidrich, Professor of Women's, Gender, and Sexuality Studies at Stony Brook University