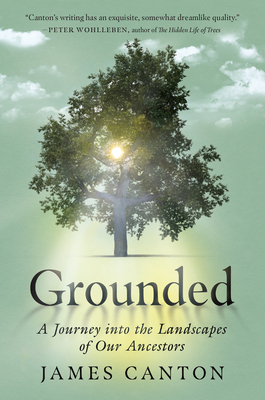 Grounded: A Journey into the Landscapes of Our Ancestors
Publication Date:
April 4th, 2023
The MIT Press Bookstore
1 on hand, as of Sep 26 1:27pm
(NATUR)
On Our Shelves Now
Description
From the author of The Oak Papers comes a beautiful meditation on how to foster a profound and healing spiritual communion with the natural world, exploring how the sacred can be accessed by looking to the past, to our ancestors and how they tread through their worlds.
"Canton's writing has an exquisite, somewhat dreamlike quality."—Peter Wohlleben, author of The Hidden Life of Trees
When James Canton walked into Suffolk's Lindsey Chapel, it was the beginning of what would become a new journey in his life—hours away from the bustling city of London and distant from the years in his early twenties when he traveled from Egypt to Argentina. Standing inside the quaint chapel, Canton realized that his past cosmopolitan desires had been replaced by an intense yearning to understand the history of the place he called home, a burning curiosity about the past and the spiritual ways and beliefs of the people who came before us.
In Grounded, Canton retraces his steps into the places where our ancestors have experienced profound emotion, otherwise known as numinous experiences, to help us better understand who we are. Through lyrical meditation, reflection, and a thoughtful consideration of the ways and beliefs of the people who came before us, Canton seeks to know what our ancestors considered to be human, and what lessons we can learn from them to find security in our contemporary selves. Steeped in literary and folklore references, Grounded is a powerful exploration of the power of nature to soothe, nourish, and inspire the human soul.
Praise for Grounded: A Journey into the Landscapes of Our Ancestors
"This is a profound meditation on the human need for connection with nature, as one man seeks solace beneath the boughs of an ancient oak tree. The tree and its surrounds come to life in shimmering detail, and Canton's writing has an exquisite, somewhat dreamlike quality" — Peter Wohlleben, author of The Hidden Life of Trees, on The Oak Papers
"To know what we are, and so how to behave and to thrive, we need to know where we've come from. Canton is an acute, gentle, companionable and elegaic guide through our past—and so through our present and future. He lets the land and our ancestors' bones speak. Their lessons could not be more urgent or exhilarating. You should join him in this sacramental journey." — Charles Foster, author of Cry of the Wild and Being a Human
"Echoes of Walden" — Kirkus Reviews, on The Oak Papers
PRAISE FOR JAMES CANTON "Intensely alive to the landscape; its pasts, people and creatures" — Robert MacFarlane, author of The Lost Words and Landscapes
PRAISE FOR THE OAK PAPERS: "Nature-lovers will find Canton's poetic tribute to be a treat." — Publishers Weekly
"Canton's gift for vivid description makes this journey—this excavation of place and purpose—a captivating and ultimately anchoring one. <i>Grounded</i> is a joyful peer beneath the surface to where our own roots channel those of ancient time: it has brought new meaning to my everyday rituals of walking and seeing." — Matt Collins, author of <i>Forest: Walking Among Trees</i>  
"A vivid exploration to the hearth-heart of the sacred places of our past – brimming with warmth and gentleness." — Keggie Carew, author of <i>Beastly</i> and <i>DADLAND</i>  
"Written to quiet our stentorian age, Canton's Grounded yearns for the solid and the sacred—the rushingly silent convergence of spirit and matter but also of ancient matter imbued with a timeless spirit."  — Daniel Griffith, author of Dark Cloud Country
"Canton evokes moments of vivid experience with unshowy power." — Wall Street Journal