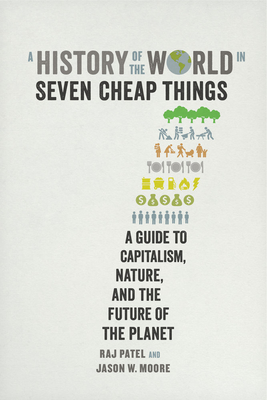 A History of the World in Seven Cheap Things: A Guide to Capitalism, Nature, and the Future of the Planet
Publication Date:
July 30th, 2018
Publisher:
University of California Press
The MIT Press Bookstore
1 on hand, as of Dec 8 10:45am
(POLSI)
On Our Shelves Now
Description
Nature, money, work, care, food, energy, and lives: these are the seven things that have made our world and will shape its future. In making these things cheap, modern commerce has transformed, governed, and devastated Earth. In A History of the World in Seven Cheap Things, Raj Patel and Jason W. Moore present a new approach to analyzing today's planetary emergencies. Bringing the latest ecological research together with histories of colonialism, indigenous struggles, slave revolts, and other rebellions and uprisings, Patel and Moore demonstrate that throughout history, crises have always prompted fresh strategies to make the world cheap and safe for capitalism. At a time of crisis in all seven cheap things, innovative and systemic thinking is urgently required. This book proposes a radical new way of understanding—and reclaiming—the planet in the turbulent twenty-first century.
Praise for A History of the World in Seven Cheap Things: A Guide to Capitalism, Nature, and the Future of the Planet
"Any good dialectical analysis lives or dies by its synthesis, and Patel and Moore's is spot on. Particularly, the concept of cheap lives stands out as a novel way to tie the important threads of critical thought on capitalism's history into a coherent tapestry of how it persists, as well as a way to comprehend and resist capitalism in 2017."
— Los Angeles Review of Books
"Sweeping erudition, and an impressive ability to synthesize disparate elements."
— The Guardian
"An informed, sometimes acute, polemic against capitalism's half-millennium of colonial exploitation."
— Nature
"An intriguing approach to analyzing today's planetary emergencies. . . .  Nicely blends ecological research with broad stroke history to demonstrate how humans have invented strategies to make the world safe for capitalism."
— Library Journal
"A History of the World in Seven Cheap Things is not only essential for understanding how capitalism puts a price on everything but a pleasure to read as well. Despite their considerable scholarly credentials (there are 56 pages of references), they write in a breezy and often witty style. For eco-socialists trying to reach a broader audience, this book should be read as a style guide."
— CounterPunch
"Offers a way of imagining, if not completely grasping, what it means to be fully human. The authors help us see what it is to be material in a world of ideas, and to be cultural in a world of matter."
— Journal of World History
"Recommended Weekend Reading"
— Food Politics
"A History of the World in Seven Cheap Things is a fascinating and informative work that reveals the role economics played in driving our species to the precipice of ecological disaster. . . . This book would be a valuable read for undergraduates, graduate students and scholars, as well as general audiences. Patel and Moore have captured very succinctly how divergent areas of human life have brought us the world we inhabit, and offer a fresh perspective on intersectionality, that encourages readers to think deeply."
— Journal of Agricultural and Environmental Ethics
"A provocative and highly readable guide to the early centuries of capitalism."
— Resilience
"Compelling and capacious. . . . At seemingly every turn, Seven Cheap Things gestures to a potentially broader discourse that should embolden readers and scholars to view networks of exchange in new—and even 'revolutionary'—ways."
— CENHS Blog
"A History of the World in Seven Cheap Things offers us a powerful . . . critical analysis and a glimpse of what the world might become."
— Social Policy Magazine