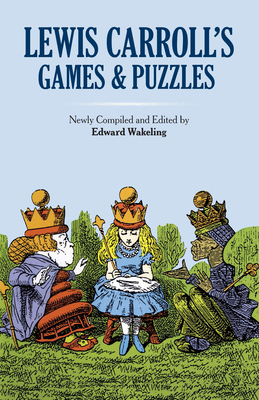 Lewis Carroll's Games and Puzzles (Dover Recreational Math)
This product is not returnable.
Publication Date:
March 27th, 1992
Publisher:
Dover Publications
The MIT Press Bookstore
2 on hand, as of Nov 30 10:32am
(MATH)
On Our Shelves Now
Description
Widely known as the author of Alice's Adventures in Wonderland and other books for children, Lewis Carroll (Charles L. Dodgson) also excelled as a mathematician and inventor of puzzles. Toward the end of his life, Carroll worked on a book of mathematical puzzles and games but died before it was completed. This book is a new compilation of Carroll's surviving puzzles and games, assembled and edited by Edward Wakeling, a Lewis Carroll scholar and writer on mathematics. Included are a substantial number of problems that Carroll had intended for his collection.
Among the problems -- many published here for the first time -- are these baffling brain teasers: Cakes in a Row; Alice's Multiplication Tables; Looking-Glass Time; Four Brothers and a Monkey; Hidden Names; Handicaps; Diverse Doublets; Mischmasch; Arithmetical Croquet; Square Numbers; A Sticky Problem; Wise Eyes; Painting Cubes; Two Clocks; An Amazing Maze; The Number Forty-Two; and 26 others.
In addition to Carroll's original mathematical inventions and games, the editor has supplied a few original problems of his own. Some hints and solutions are also provided. Enhanced with some of John Tenniel's famous illustrations, this volume is a delightful double treat for any puzzle enthusiast or lover of the Alice books.