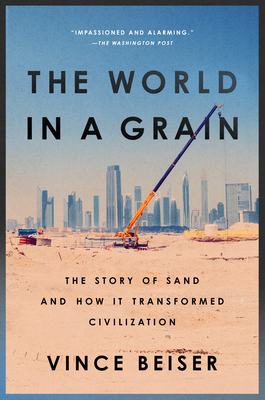 The World in a Grain: The Story of Sand and How It Transformed Civilization
Publication Date:
August 6th, 2019
Publisher:
Riverhead Books
The MIT Press Bookstore
2 on hand, as of Dec 8 10:45am
(ENVST)
On Our Shelves Now
Description
A finalist for the PEN/E. O. Wilson Literary Science Writing Award
The gripping story of the most important overlooked commodity in the world--sand--and the crucial role it plays in our lives.
After water and air, sand is the natural resource that we consume more than any other--even more than oil. Every concrete building and paved road on Earth, every computer screen and silicon chip, is made from sand. From Egypt's pyramids to the Hubble telescope, from the world's tallest skyscraper to the sidewalk below it, from Chartres' stained-glass windows to your iPhone, sand shelters us, empowers us, engages us, and inspires us. It's the ingredient that makes possible our cities, our science, our lives--and our future.
And, incredibly, we're running out of it.
The World in a Grain is the compelling true story of the hugely important and diminishing natural resource that grows more essential every day, and of the people who mine it, sell it, build with it--and sometimes, even kill for it. It's also a provocative examination of the serious human and environmental costs incurred by our dependence on sand, which has received little public attention. Not all sand is created equal: Some of the easiest sand to get to is the least useful. Award-winning journalist Vince Beiser delves deep into this world, taking readers on a journey across the globe, from the United States to remote corners of India, China, and Dubai to explain why sand is so crucial to modern life. Along the way, readers encounter world-changing innovators, island-building entrepreneurs, desert fighters, and murderous sand pirates. The result is an entertaining and eye-opening work, one that is both unexpected and involving, rippling with fascinating detail and filled with surprising characters.
Praise for The World in a Grain: The Story of Sand and How It Transformed Civilization
"[An] impassioned and alarming report on sand.... In Beiser's artful telling, the planet is caught up in a vicious, sand-fueled cycle." —Washington Post
"Beiser peppers research with first-person interviews in an engaging and nuanced introduction to the ways sand has shaped the world.... stunning." —NPR
"Beiser's eye-opening study clarifies the science and the huge role of sand in heavy and high-tech industry. Perhaps most compelling is his exposé of sand mining, which obliterates islands, destroys coral reefs and marine biodiversity, and threatens livelihoods. A powerful lens on an under-reported environmental crisis." —Nature
"Whether in Chippewa Falls, Wisconsin, or India, [Beiser] exhibits a flare for detailing the human drama through prose." —Los Angeles Review of Books
"I thought I knew the basics of sustainability, but this lucid, eye-opening book made me feel like a dolt in the best possible aha-moment way: I'd simply never registered how much of the contemporary world—our concrete and glass buildings and asphalt roads and silicone-based digital devices and so much more—is entirely, voraciously sand-dependent. And the looming global sand crisis: who knew?" —Kurt Andersen, author of Fantasyland: How America Went Haywire: A 500-Year History

"A fresh history of 'the most important solid substance on Earth, the literal foundation of modern civilization.' Books on a single, familiar topic (salt, cod, etc.) have an eager audience, and readers will find this an entirely satisfying addition to the genre." —Kirkus Reviews

"The book is at its urgent best in chapters on the black market in sand and the sand mafias that brutally exercise control over resources... Breezily written and with insights on every page, this is an eye-opening look at a resource too often taken for granted." —Publishers Weekly

"A rich study of one of the world's most abundant natural resources: sand. With a balance of statistics, science, history, on-the-scene reporting and some healthy environmental skepticism, The World in a Grain highlights the ways this ubiquitous global commodity has been essential to human development and advancement." —Shelf Awareness
"The World in a Grain is nothing less than one of the best reporters working today unpacking the literal foundations of civilization. Everything we are, everywhere we live, is built on or out of sand, and Vince Beiser tells the best story of where that sand comes from, who moves it, and what they build from it. It's a whole new way of seeing the world." —Adam Rogers, author of Proof: The Science of Booze
"Modern life, as Vince Beiser compellingly explains, is literally made of sand. Yet we have been so profligate with this seemingly inexhaustible resource that for many uses in many parts of the world we are running out. The World in a Grain is a chronicle of innovation and greed and heedless waste—in brief, the story of civilization." —David Owen, author of Where the Water Goes
"A riveting, wonderfully written investigation into the many kinds of castles the world has built out of sand. You'll find something new, and something fascinating, on every page. Perhaps even in every paragraph." —Nicholas Thompson, author of The Hawk and the Dove
"Sand shortage? Black market in sand? Secret sand heists? Who knew? I certainly didn't before reading this lively and eye-opening book about a material I'd always assumed almost infinite. Vince Beiser shows, with great skill, that this key component of our fragile, over-consuming planet we need to better understand, conserve and protect." —Adam Hochschild, author of King Leopold's Ghost and Bury the Chains