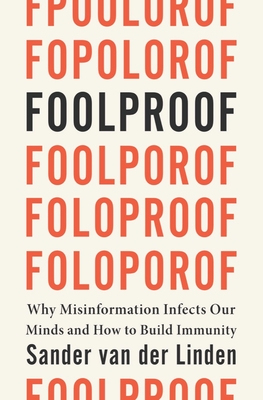 Foolproof: Why Misinformation Infects Our Minds and How to Build Immunity
Publication Date:
March 21st, 2023
Publisher:
W. W. Norton & Company
The MIT Press Bookstore
2 on hand, as of Nov 30 10:32am
(PSYCH)
On Our Shelves Now
Description
A Financial Times Best Book of the Year • A Next Big Idea Club Must-Read • One of Nature's best science picks
Informed by decades of research and on-the-ground experience advising governments and tech companies, Foolproof is the definitive guide to navigating the misinformation age.
From fake news to conspiracy theories, from inflammatory memes to misleading headlines, misinformation has swiftly become the defining problem of our era. The crisis threatens the integrity of our democracies, our ability to cultivate trusting relationships, even our physical and psychological well-being—yet most attempts to combat it have proven insufficient. In Foolproof, one of the world's leading experts on misinformation lays out a crucial new paradigm for understanding and defending ourselves against the worldwide infodemic.
With remarkable clarity, Sander van der Linden explains why our brains are so vulnerable to misinformation, how it spreads across social networks, and what we can do to protect ourselves and others. Like a virus, misinformation infects our minds, exploiting shortcuts in how we see and process information to alter our beliefs, modify our memories, and replicate at astonishing rates. Once the virus takes hold, it's very hard to cure. Strategies like fact-checking and debunking can leave a falsehood still festering or, at worst, even strengthen its hold.
But we aren't helpless. As van der Linden shows based on award-winning original research, we can cultivate immunity through the innovative science of "prebunking": inoculating people against false information by preemptively exposing them to a weakened dose, thus empowering them to identify and fend off its manipulative tactics. Deconstructing the characteristic techniques of conspiracies and misinformation, van der Linden gives readers practical tools to defend themselves and others against nefarious persuasion—whether at scale or around their own dinner table.
Praise for Foolproof: Why Misinformation Infects Our Minds and How to Build Immunity
[Prebunking] is likely our best strategy for winning the misinformation wars.
— Troy Jollimore - Washington Post
[Van der Linden] powerfully analyses why everyone is susceptible [to misinformation], how falsehoods spread, and how to "prebunk" misinformation and "inoculate" ourselves and others against it.
— Andrew Robinson - Nature
A must-read for those of us interested in resisting the spread of disinformation. [Foolproof] highlights the need for vigilance and the importance of developing immunity against it…a timely and valuable resource.
— Dale Hartley - Psychology Today
Van der Linden's book expertly lays out strategies for counteracting misinformation.
— UNDARK
Thoroughly researched and lucidly written, [Foolproof] is a standout guide to one of the world's most pressing social issues.
— Publishers Weekly (starred review)
[A] well-researched, psychologically astute book…and a powerful argument for the effectiveness of delivering a small dose of misinformation in order to inoculate against a major infection…Insightful, convincing, instructive reading.
— Kirkus (starred review)
For quite a while, we've needed, in one handy place, high-quality straight information about the low-quality crooked information inundating our lives. In the nick of time, [Foolproof] provides that straight information about the origins, workings, and consequences of misinformation/disinformation-infused messaging.… I am so glad we now have this book. There's nothing else like it.
— Robert B. Cialdini, New York Times best-selling author of Influence and Pre-Suasion
This brilliant book vividly illuminates the challenges of countering misinformation, showing how human psychology can make us vulnerable to manipulation and conspiracy theories. Van der Linden's analysis would be utterly depressing, were he not to provide a set of powerful evidence-based "antigens" designed to protect us from false claims. They have never been more needed.
— Sir David Spiegelhalter, author of The Art of Statistics: How to Learn from Data
Foolproof is an astonishingly well-researched overview of a persistent societal problem and a highly readable guide to keeping your mind relatively misinformation-free.
— Andy Norman, author of Mental Immunity, and Lee McIntyre, author of Post-Truth and On Disinformation
Mis- and disinformation have caused a worldwide infodemic, potentially crumbling democracies and eroding our fundamental trust in one another. This outstanding and easy-to-read summary of the science, offered by the foremost scientific authority on the subject, is essential reading for us all.
— Mitchell J. Prinstein, chief science officer of the American Psychological Association
A fascinating, in-depth investigation into the complex landscape of misinformation.… You will never look at your social media feeds in the same way again.
— Angela Saini, author of Superior
An insightful and forensic examination of why our brains entertain disinformation — and the remedies that can protect us all from its real-world harm. For everyone who messages me asking how they can speak to someone who has fallen victim to online conspiracies — this is the book for you!
— Marianna Spring, BBC Disinformation Correspondent and author of Among the Trolls
Reminding us that we are all susceptible to believing lies, Foolproof is a highly necessary do-it-yourself guide for building mental resilience against false information.
— Dr. Seema Yasmin, author of What the Fact?! Finding the Truth in All the Noise
Sander van der Linden is one of the world's leading experts on combating misinformation, and Foolproof is the ultimate handbook for navigating — and fighting back against — the tsunami that threatens to drown us in bullshit. Whether you're facing a sketchy Internet rumor or listening to your uncle spin another conspiracy, this book will give you the best strategies for building immunity against fake news, propaganda, and conspiracy theories.
— Jay J. Van Bavel, coauthor of The Power of Us
Bringing the psychology of misinformation to life, Foolproof… outlines exciting techniques for protecting ourselves and those we care about. One of the smartest and, ultimately, most optimistic books on the subject I've read.
— Claire Wardle, cofounder and codirector of the Information Futures Lab, Brown University
Very interesting and important.
— Dan Ariely, author of Predictably Irrational, via LinkedIn