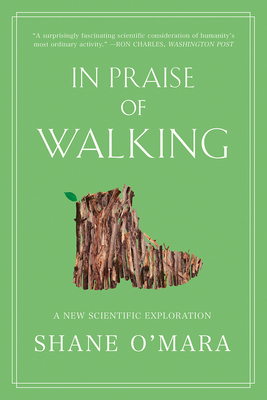 In Praise of Walking: A New Scientific Exploration
Publication Date:
May 25th, 2021
Publisher:
W. W. Norton & Company
The MIT Press Bookstore
1 on hand, as of Nov 30 10:32am
(NATUR)
On Our Shelves Now
Description
"A surprisingly fascinating scientific consideration of humanity's most ordinary activity." —Ron Charles, Washington Post
In this "wonderful" (John Brandon, Forbes) book, neuroscientist Shane O'Mara invites us to marvel at the benefits walking confers on our bodies and brains, and to appreciate the advantages of this uniquely human skill. From walking's evolutionary origins, traced back millions of years to life forms on the ocean floor, to new findings from cutting-edge research, he reveals how the brain and nervous system give us the ability to balance, weave through a crowded city, and run our "inner GPS" system. Walking is good for our muscles and posture;?it helps to protect and repair organs, and can slow or turn back the aging of our brains. With our minds in motion we think more creatively, our mood improves, and stress levels fall. Walking together to achieve a shared purpose is also a social glue that has contributed to our survival as a species.
As our lives become increasingly sedentary, O'Mara makes the case that we must start walking again—whether it's up a mountain, down to the park,?or simply to school and work. In Praise of Walking?illuminates the joys, health benefits, and mechanics of walking, and reminds us to get out of our chairs and discover a happier, healthier, more creative self.
Praise for In Praise of Walking: A New Scientific Exploration
Informative and persuasive enough to rouse the most ardent couch potato.
— Jonathon Keats - New Scientist
Honest in its scope, timely in its urgency, and convincing in its presentation.… O'Mara takes what seems like a prosaic subject and reveals how fascinating and vital it truly is.
— Michael Berry - Sierra
Delightful and salient.… [O'Mara] manages to engagingly weave history, philosophy, and poetry into the scientific literature.
— M.R. O'Connor - Undark
As O'Mara makes clear, every amble is transformative. It grows brain cells, fires our muscles, unleashes our creative spirit and lifts our moods. This book could—and should—change your life.
— Florence Williams, author of The Nature Fix
A reader-friendly digest of scientific studies.… [In Praise of Walking] delivers a great deal of salutary, practicable common sense.
— Sam Sacks - Wall Street Journal
In Praise of Walking [is] a backstage tour of what happens in our brains while we perambulate. Walking makes us healthier, happier and brainier.… [O'Mara] knows this not only through personal experience, but from cold, hard data.
— Amy Fleming - Guardian
A fascinating new book that examines the multitudinous benefits of this form of locomotion.
— Lydia Slater - Harper's Bazaar
Convincing and compelling.… In Praise of Walking is peppered with insights about everything from 19th-century poets and flâneurs to modern-day experiments with subjects playing video games in fMRI scanners.
— Helen Davies - Sunday Times
Compelling and wise, In Praise of Walking points the way to the human adventure.
— Richard Louv, author of Our Wild Calling and Last Child in the Woods
Full of insights.… An accessible and thought-provoking discussion of walking as a key to human success.
— Gina Rippon, author of The Gendered Brain