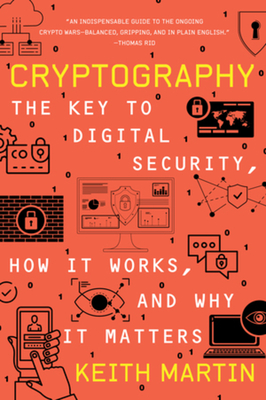 Cryptography: The Key to Digital Security, How It Works, and Why It Matters
Publication Date:
July 27th, 2021
Publisher:
W. W. Norton & Company
The MIT Press Bookstore
1 on hand, as of Dec 4 10:31am
(CS)
On Our Shelves Now
Description
A "must-read" (Vincent Rijmen) nuts-and-bolts explanation of cryptography from a leading expert in information security.
Despite its reputation as a language only of spies and hackers, cryptography plays a critical role in our everyday lives. Though often invisible, it underpins the security of our mobile phone calls, credit card payments, web searches, internet messaging, and cryptocurrencies—in short, everything we do online. Increasingly, it also runs in the background of our smart refrigerators, thermostats, electronic car keys, and even the cars themselves. As our daily devices get smarter, cyberspace—home to all the networks that connect them—grows.
Broadly defined as a set of tools for establishing security in this expanding cyberspace, cryptography enables us to protect and share our information. Understanding the basics of cryptography is the key to recognizing the significance of the security technologies we encounter every day, which will then help us respond to them.
What are the implications of connecting to an unprotected Wi-Fi network? Is it really so important to have different passwords for different accounts? Is it safe to submit sensitive personal information to a given app, or to convert money to bitcoin? In clear, concise writing, information security expert Keith Martin answers all these questions and more, revealing the many crucial ways we all depend on cryptographic technology. He demystifies its controversial applications and the nuances behind alarming headlines about data breaches at banks, credit bureaus, and online retailers. We learn, for example, how encryption can hamper criminal investigations and obstruct national security efforts, and how increasingly frequent ransomware attacks put personal information at risk. Yet we also learn why responding to these threats by restricting the use of cryptography can itself be problematic.
Essential reading for anyone with a password, Cryptography offers a profound perspective on personal security, online and off.
Praise for Cryptography: The Key to Digital Security, How It Works, and Why It Matters
An indispensable guide to the ongoing crypto wars—balanced, gripping, and in plain English.
— Thomas Rid, professor of strategic studies, Johns Hopkins University, and author of Active Measures
In his searching and authoritative book, Keith Martin explains how…cryptography governs a huge portion of everyday life, and this book is the perfect introduction.
— Steve Donoghue - Open Letters Review
Keith Martin has a knack for explaining one of today's toughest inter-disciplinary problems in an accessible and accurate way. There's no math required, just a willingness to engage your brain. You will finish this book both entertained and better informed.
— Kenny Paterson, professor of computer science, ETH Zürich
In his typical low-key style, Keith Martin explains how digital security is necessarily based on cryptosystems, secret keys, and public keys. A must-read for anyone who wants to participate competently in discussions on the role of cryptography in our society.
— Vincent Rijmen, codesigner of the Advanced Encryption Standard
[Martin] shows a knack for communicating demanding ideas…This timely book will leave digital neophytes significantly better informed about a vital area in computer science.
— Publishers Weekly
Highly informative…Tech-savvy readers will come away with a greater appreciation for the science involved in keeping secrets from prying eyes.
— Kirkus Reviews