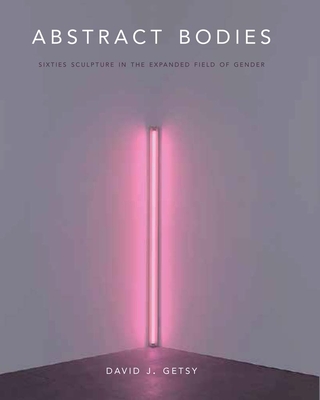 Abstract Bodies: Sixties Sculpture in the Expanded Field of Gender
Publication Date:
April 18th, 2023
Publisher:
Yale University Press
The MIT Press Bookstore
1 on hand, as of Dec 8 10:45am
(ART)
On Our Shelves Now
Description
An innovative analysis of 1960s abstract sculpture that draws on transgender studies and queer theory
Now back in print, Abstract Bodies was the first book to bridge the interdisciplinary field of transgender studies with the discipline of art history. Original and theoretically astute, it recasts debates around abstraction and figuration in 1960s art through a discussion of gender's mutability and multiplicity. In that decade, sculpture purged representation and figuration but continued to explore the human as an implicit reference. Even as the statue and the figure were left behind, artists and critics asked how the human, and particularly gender and sexuality, related to abstract sculptural objects that refused the human form.
This book examines abstract sculpture in the 1960s that came to propose unconventional and open accounts of bodies, persons, and genders. Drawing on transgender studies and queer theory, David J. Getsy offers innovative and archivally rich new interpretations of artworks by and critical writing about four major artists—Dan Flavin (1933–1996), Nancy Grossman (b. 1940), John Chamberlain (1927–2011), and David Smith (1906–1965). Abstract Bodies makes a case for abstraction as a resource in reconsidering gender's multiple capacities and offers an ambitious contribution to this burgeoning interdisciplinary field.
Praise for Abstract Bodies: Sixties Sculpture in the Expanded Field of Gender
"Abstract Bodies is an extraordinarily imaginative book. It makes unexpected yet absolutely compelling links between artworks and transgender logics or ways of thinking that are easily overlooked or misperceived from traditional disciplinary approaches."—Ramzi Fawaz, Transgender Studies Quarterly
"David Getsy is a key voice among a new generation of art historians."—Art in America
"Highly recommended."—Choice
"In bringing to light a grossly neglected approach to the topic and action of gendering in art production and interpretation, Getsy's book demonstrates that we are still processing the profound event that was 1960s abstraction, still reconciling ourselves to its categorical refusals, semiotic disruptions, and relational revisions."—Art Journal
 "Getsy produces a daring and fascinating project" —Jenni Sorkin, Oxford Art Journal
"This meticulously researched book, combining expert archival research, close analysis of less-researched artworks by canonical figures of American abstract sculpture in the 1960s, and a deliberate interdisciplinary analysis, catapults art-historical research [and] engages the rapidly growing scholarship on transgender studies into the twenty-first century."—Natasha Adamou, Sculpture Journal
"The contribution made by this book to both art history and to gender studies is incontrovertible."—Gender Research
Recommended by Elmgreen & Dragset as their pick for 2021 "The Best Art Books to Dive into This Summer—As Recommended by Artists" in the Art Newspaper
"Abstract Bodies makes a remarkable intervention into art history, combining a rigorous attention to the history of sculpture with surprising and elaborate readings of the art of the 1960s. As a result of his disciplined attention to abstract forms rather than figural representations of the body, David Getsy has opened a new chapter in art history. This is a brilliant and original book and will change the way we think about the dynamics between art, embodiment, plasticity, and queer form."—Jack Halberstam, University of Southern California
"David Getsy's Abstract Bodies represents a welcome convergence of the long established academic discipline of art history with the more recent interdisciplinary field of transgender studies. This book is not a history of transgender artists or transgender themes in art, but rather a path-breaking application of transgender studies as a heuristic lens. His deft coupling of subject matter and critical framework enables readers to grasp the profound extent to which the plasticity of shape and transformation of substance in reference to human being is a central feature of recent Western history."—Susan Stryker, University of Arizona
"Abstract Bodies more than bridges art history and gender studies—David Getsy demonstrates that these fields need each other. This book shows us how to see gender's capacities in texture, light and form—loosened from the discourse of sex, gender becomes a material possibility. This is essential reading for anyone who wants to know how to write about sculpture, or who wants to know how queer art history can be."—Jennifer Doyle, University of California at Riverside
"The insights that emerge from David Getsy's analyses of sculpture, reception, anecdote, historiography, and of the particular languages – and voices – of artists, are provocative and profound. In the process of locating transformational energies in these artists' works, Getsy not only connects us more intimately to each artist but also redirects the field of postwar abstract sculpture."—Michael Brenson, Bard College