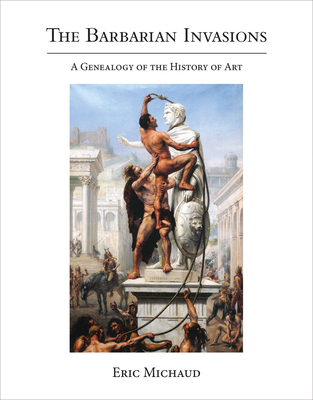 The Barbarian Invasions: A Genealogy of the History of Art (October Books)
Publication Date:
December 3rd, 2019
The MIT Press Bookstore
1 on hand, as of Nov 30 10:32am
(ART)
On Our Shelves Now
Description
How the history of art begins with the myth of the barbarian invasion—the romantic fragmentation of classical eternity.
The history of art, argues Éric Michaud, begins with the romantic myth of the barbarian invasions. Viewed from the nineteenth century, the Germanic-led invasions of the Roman Empire in the fifth century became the gateway to modernity, seen not as a catastrophe but as a release from a period of stagnation, renewing Roman culture with fresh, northern blood—and with new art that was anti-Roman and anticlassical. Artifacts of art from then on would be considered as the natural product of "races" and "peoples" rather than the creation of individuals. The myth of the barbarian invasions achieved the fragmentation of classical eternity.
This narrative, Michaud explains, inseparable from the formation of nation states and the rise of nationalism in Europe, was based on the dual premise of the homogeneity and continuity of peoples. Local and historical particularities became weapons aimed at classicism's universalism. The history of art linked its objects with racial groups—denouncing or praising certain qualities as "Latin" or "Germanic." Thus the predominance of linear elements was thought to betray a southern origin, and the "painterly" a Germanic or northern source. Even today, Michaud points out, it is said that art best embodies the genius of peoples. In the globalized contemporary art market, the ethnic provenance of works—categorized, for example, as "African American," "Latino," or "Native American"—creates added value. The market displays the same competition among "races" that was present at the foundation of art history as a discipline.